US-Cuba Talks Underway; Focus on Migrants, Illegal Drugs
STATE DEPARTMENT—A surge in the number of Cubans entering the United States and methods to prevent the flow of illegal drugs between the two countries are among issues being discussed by U.S. and Cuban working groups this week.
U.S. and Cuban officials are meeting in Washington, as the two countries move forward with efforts to normalize ties.
On Monday, officials held high-level bi-annual migration talks at the State Department to discuss the implementation of agreements between the U.S. and Cuba.
Push to reach US
The talks come at a time when the number of Cubans entering the United States has spiked.
The U.S. Customs and Border Protection agency says the number of Cubans arriving at U.S. ports of entry rose from about 24,000 to more than 43,000 between from 2014 to 2015.
It says while the number of Cuban migrants has been rising every year since 2009, the current trend "significantly exceeds the average increase over the past six years."
Many Cubans fear the normalization of ties between will spell an end to the unique immigration privileges offered under the Cuban Adjustment Act.  The measure, enacted in 1966, gives Cubans a right to obtain permanent residency, once they have been in the United States a year.
'Wet foot, dry foot'
Additionally, the so-called "wet foot, dry foot" policy allows Cubans who reach U.S. shores to remain in the country, while those who are intercepted at sea are generally returned to Cuba.
Administration officials say there are no plans to change the U.S. migration policy for Cuba.
Cuban migrants wait to board a bus to take them to a shelter, outside an immigration office at the border between Costa Rica and Nicaragua, in Penas Blancas, Costa Rica, Nov. 25, 2015.
A State Department spokesperson said a focal point of migration talks would be proposals on how both governments could contribute to fighting the smuggling organizations that take advantage of Cuban migrants.  Some Cubans have paid smugglers thousands of dollars to help them illegally travel through South and Central America to the U.S. border.
Other entry corridors
Other migrants are facing increased legal obstacles as they attempt the journey.
Earlier this month, Ecuador announced plans to add a new visa requirement, in a bid to stem the flow of Cuban refugees through the country.  The move sparked protests at the Ecuadoran Embassy in Havana.
Also, tensions increased between Nicaragua and Costa Rica earlier this month after the Nicaraguan government refused to allow thousands of Cubans stranded at the border to enter.
A State Department spokesperson said officials were aware of "the situation involving thousands of Cuban migrants traveling irregularly from South America and Panama northward through Costa Rica."
US entry policy criticized
Separately, the U.S. entry policy for Cubans has been the subject of both foreign and domestic criticism.  Cuban government officials have repeatedly criticized the U.S. policy.
Josefina Vidal, Director General at the Cuban Ministry of Foreign Affairs, has said the U.S. policy has been a principal stimulus for illegal immigration from Cuba.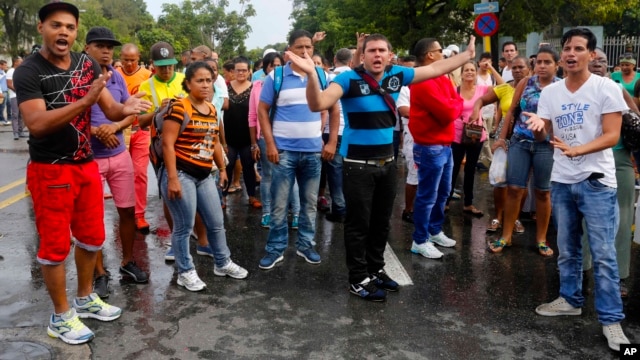 Cubans disrupt traffic on a street near Ecuador's embassy, expressing discontent with new rules requiring Cubans to have a visa to visit the South American country, in Havana, Cuba, Nov. 28, 2015.
The policy has also been criticized by Arizona Congressman Paul Gosar, who introduced a measure that would repeal the Cuban Adjustment Act and the "wet foot, dry foot," policy.
"Cuban nationals should be treated under the same immigration rules as any other person seeking to immigrate to the United States," said Gosar in an October statement.
Flow of narcotics
The migration talks are a follow-up to talks held in January in Havana.
On Tuesday, U.S. and Cuban officials launched their second Counter-Narcotics Dialogue.
In addition to talks on ways to stop the illegal flow of drugs, officials involved in the multi-agency talks have been discussing ways to further cooperation between the United States and Cuba on drug prevention.
The United States and Cuba have established working groups on a host of issues since President Barack Obama's announcement a year ago that the two countries would move to end more than five decades of mutual hostility by working to normalize ties.
As part of the process, the United States and Cuba reached milestones this past summer with the re-opening of their embassies in each other's capitals.