Chicago Police Chief Fired in Aftermath of Police Shooting Video
diciembre 1, 2015
Chicago's police chief was fired Tuesday, a week after the release of a video showing a white city police officer killing a black teenager by firing 16 shots at him.
Mayor Rahm Emanuel dismissed police Superintendent Garry McCarthy in the third biggest U.S. city, saying it was an «undeniable fact» that the public's trust in Chicago police had eroded and that it was time for «fresh eyes and leadership.»
The video shot from a police car in October 2014 shows Officer Jason Van Dyke getting out of another squad car in the middle of a four-lane Chicago street and firing the fatal shots at the youth, 17-year-old Laquan McDonald.
Van Dyke, who has been charged with first-degree murder in the case, continued firing at McDonald after he had crumpled to the ground. His lawyer says he feared for his life before opening fire.
A frame grab from dash-cam video provided by the Chicago Police Department shows Laquan McDonald (R) walks down the street moments before being shot by officer Jason Van Dyke on Oct. 20, 2014.
A police investigation showed that the youth was carrying a knife with the blade folded into the handle at the time of the shooting, with an autopsy showing that he had PCP, a hallucinogenic drug, in his system. When the shooting occurred a year ago, police said McDonald had lunged at police just before he was shot, but the video showed the youth veering away from police as he walked down the middle of the street.
In largely peaceful protests since the video's release, community activists have called for McCarthy's firing. He has been the Chicago police chief for more than four years.
In announcing McCarthy's dismissal, Emanuel, once the chief of staff for U.S. President Barack Obama, created a new police monitoring group for Chicago to review accountability, oversight and training in the police department.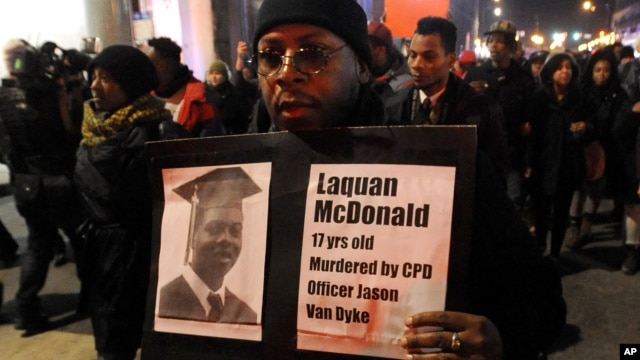 A protester holds a sign as people rally in memory of 17-year-old Laquan McDonald, who was shot 16 times by Chicago Police Department Officer Jason Van Dyke, in Chicago, Nov. 24, 2015.
The Chicago case is the latest of several controversial confrontations in the U.S. in which white police officers have killed black suspects in the last two years, often in street disputes that quickly escalated from routine police encounters with individuals in their communities. After investigations, police have in several cases been cleared of criminal wrongdoing, but in other instances have been charged with committing murder, with several awaiting trials at the moment.
The police shootings have spawned a debate in the U.S. about police relations with the communities they serve and led to the formation of a protest group called Black Lives Matter.