Turkeys Are Guests of Honor at Unusual Thanksgiving Fete
noviembre 23, 2016
Julie Taboh/VOA News
POOLESVILLE, MARYLAND — Thanksgiving in America is a time when family and friends get together to celebrate the season and give thanks for the blessings in their lives.
For many, a highlight of the holiday is the traditional Thanksgiving meal, featuring green beans, sweet potatoes and a big, fat turkey, which is typically carved with much fanfare and served with stuffing and lots of rich gravy.
But at Poplar Spring Animal Sanctuary, in Poolesville, Maryland, the turkeys are not cooked and consumed, but cared for and celebrated.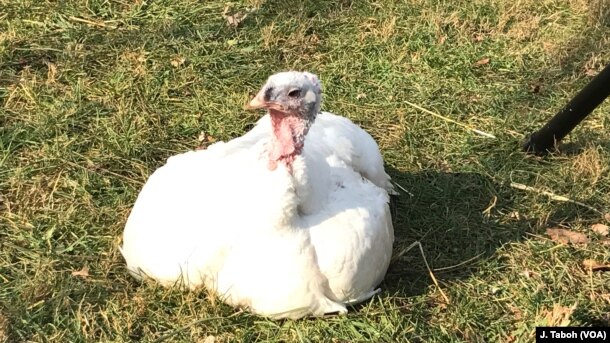 Thanksgiving with the turkeys
On the Saturday before Thanksgiving, the fine-feathered fowls were the guests of honor at an event where visitors got to eat lunch with the turkeys at a special, vegan pre-Thanksgiving picnic.
As curious visitors looked on, the turkeys were treated to a feast of cut-up fruit and vegetables, which they happily shared with the chickens and roosters in their midst.
Afterwards, the turkeys roamed freely and didn't seem to mind the many visitors — young and old — who petted them and took their pictures. There were sisters Tallulah and Madison, one shy and the other very sociable. And Perry, the largest of the birds, who strutted around showing off his big, fine feathers. An event volunteer commented that he was showing off to his girlfriends, but — as she pointed out — they didn't seem to be taking much notice.
A community affair
Thanksgiving with the Turkeys is a popular community event that was started 18 years ago by sanctuary founders Terry and Dave Cummings. On this beautiful fall day, record crowds showed up, as many as 1,000,Terry estimated, which she said was a wonderful and unexpected surprise.
"We started the sanctuary 20 years ago and we love having this event because it's a great way for people to come out and celebrate a cruelty-free Thanksgiving, which so many people don't get a chance to do with their families," she said.
It was also an opportunity to educate people about turkeys, she noted. "We wanted to show people that they all have personalities, that they're all wonderful, they're just like a cat or a dog, they're just like a companion animal. And we wanted to show that by having a vegan potluck that you can have delicious food without eating animals."
Breaking bread
As visitors enjoyed the meat- and dairy-free picnic, some shared the reasons they were drawn to the event.
Laura Fox, an animal protection attorney, said she was there with her fiance Kyle, "to support the sanctuary and enjoy great vegan food and mingle with like-minded people." She and Kyle, who are both vegan, actually met at the event two years ago.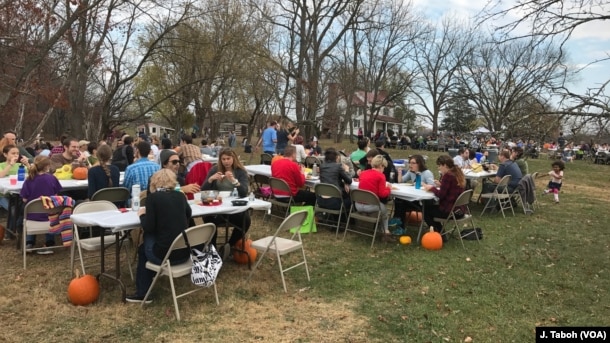 Since Erin Dulin was introduced to the event by some friends a number of years ago, she says it's become her favorite part of Thanksgiving. "Every year I look forward to coming here," she said. "I personally do eat meat regularly, but this is a really good reminder of where the food that's on my plate is coming from and to be more mindful about what I'm eating," she added.
DC resident Karen Houston came here with her friend Erin. "I think having it at a sanctuary is just perfect because one of the biggest ideas behind being vegan is compassion for all living creatures."
11-year-old Willow McEligot, who's a vegetarian, was visiting with her family. "I really liked that we got to be around the turkeys and see them living and [to see] how adorable they are and how nice they are," she said.
Second chances
The 174-hectare refuge is also home to about 200 other abused and abandoned farm animals, including goats, geese, sheep and lots and lots of pigs. The friendly porkers were a huge hit with visitors, who enjoyed petting them and tossing them pumpkins as a special treat.
Rachael Ellis, a first-time visitor from Williamsburg, Virginia, said she recently became involved with animal rights activism, "so I wanted to come here because I wanted to connect with the animals I fight for."
"It's fantastic!" she said. "Everybody should have Thanksgiving with a turkey instead of on their table."
Terry Cummings hopes that after their experience at the sanctuary, visitors who are not already vegan will be inspired to think about starting a new tradition of mindful, cruelty-free living.