London Police: No Signs of Radicalization in London Attacker
agosto 4, 2016
London police said Thursday that they found no evidence of radicalization to suggest terrorism after a Somali man stabbed a woman to death and wounded five other people in central London. Instead, they say the attack was likely triggered by mental health issues.
Police arrested the 19-year-old man in Russell Square, near the University of London, after incapacitating him with a Taser. The man – who has yet to be publicly named – is in police custody at a nearby hospital.
"In some of our big iconic locations, we've already got armed patrols – if you look at Parliament, Downing Street – so it's not entirely new," Metropolitan Police chief Bernard Hogan-Howe said Thursday. "I think people understand that where you are going to have people as enemies who've got guns, we've got to have guns."
The decision to put armed police on the streets in London is significant because the vast majority of officers in Britain do not carry firearms — a standard that will remain intact for most of London's 31,000 police officers.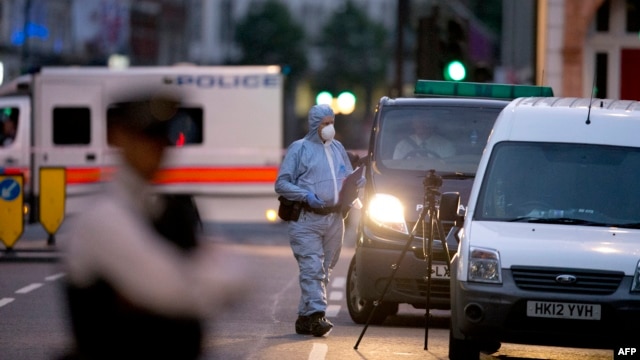 A police forensic officer works in Russell Square in London early on August 4, 2016, after a knife attack in which a woman in her 60s was killed.
Police identified the 60-year-old woman who was stabbed to death as an American citizen. She was treated at the scene by paramedics, but pronounced dead shortly after. Three victims were released from the hospital early Thursday morning. The condition of two others was unknown.
Mark Rowley, the Metropolitan Police Service's Assistant Commissioner for Specialist Operations, said police believe the mental health of the suspect to be a "significant factor" in the case, but cautioned that it is just one of several lines of inquiry.
«But of course at this stage we should keep an open mind regarding motive and consequently terrorism as a motivation remains but one line of inquiry for us to explore,» he added.
Police received a call about the attack in progress around 10:30 p.m. local time, and within about 10 minutes had arrived on the scene and subdued the attacker.
More armed police
Rowley said that, as a precautionary measure, there would be an increased presence of armed police on the streets of London Thursday morning to provide Londoners "reassurance and safety."
The knife attack came the same day London officials announced an increase in armed police patrolling the city in an effort to prevent terror attacks.
Dubbed «Operation Hercules,» the boost in officers carrying guns is a response to the stepped up terror attacks in Europe recently, according to police officials.
"Anyone who's been following events in Europe over the past few weeks will understand why we want to show our determination to protect the public,» said Hogan-Howe. «We are deadly serious about the protection that we are offering the people of London and we will never be complacent.»
In a statement, London Mayor Sadiq Khan said safety in London is his number one priority and he expressed condolences for the victims of the attack.
"A man was arrested at the scene. Police have spoken to him and are seeking to establish the full facts including motives for this attack," Khan said. «I urge all Londoners to remain calm and vigilant. Please report anything suspicious to the police. We all have a vital role to play as eyes and ears for our police and security services and in helping to ensure London is protected," he said.