France Remembers Attack Victims
PARIS—
As joggers sprinted down nearby Canal Saint Martin, targeted by Islamist assailants last year, Antoine Karegis and his family braved a brisk wind Sunday at the Place de la Republique to pay their respects for the nearly 150 victims of last year's terrorist attacks around Paris.
"It would have been difficult not to be here," said Karegis who lives nearby. "We've been affected by the attacks, like everyone else."
The Karegis family joined several thousand people attending the sober morning ceremony that marked one year since a massive rally against terrorism at the iconic square, following the January shootings that targeted the offices of the Charlie Hebdo newspaper and a Jewish market.
Low turnout
But the turnout was disappointingly low compared to the 1.6 million people, including many world leaders, who packed the square and city streets in a giant march against Islamist extremism exactly one year ago.
Under slate-grey skies, French President Francois Hollande unveiled a plaque next to a newly planted oak tree in memory of the 17 victims of last January's attacks, along with another 130 who died during a second wave of shootings and bombings in November.
France's President Francois Hollande, left, and Prime Minister Manuel Valls, right, lay a wreath of flowers at Place de la Republique in Paris during a ceremony to honor the victims of the Islamic extremist attacks, Jan. 10, 2016.
French rock star Johnny Hallyday sang a special song for the victims during the ceremony that also included extracts read from the writings of Victor Hugo.
Paris Mayor Anne Hidalgo was to preside over a second ceremony later in the day that would see the tree and the square's giant statue of Marianne, the symbol of France, lit up for the first time.
Week of events
Sunday's events cap a week of memorials, debates and vigils remembering a grim 2015.
On January 7 last year, brothers Cherif and Said Kouachi stormed into the offices of the satirical Charlie Hebdo weekly, shooting dead 11 people, along with a police officer outside.Another officer was slain the next day by a third assailant, Amedy Coulibaly, who later killed another four people at a Jewish market.
The year ended with a wave of shootings and bombings on November 13 that targeted bars, restaurants and a soccer stadium around the French capital. At least one top suspect remains on the loose.
Following the memorial ceremony at Republique, Hollande visited the Paris Grand Mosque which, like hundreds around the country, opened its doors over the weekend in a bid to build bridges and combat rising anti-Muslim sentiments.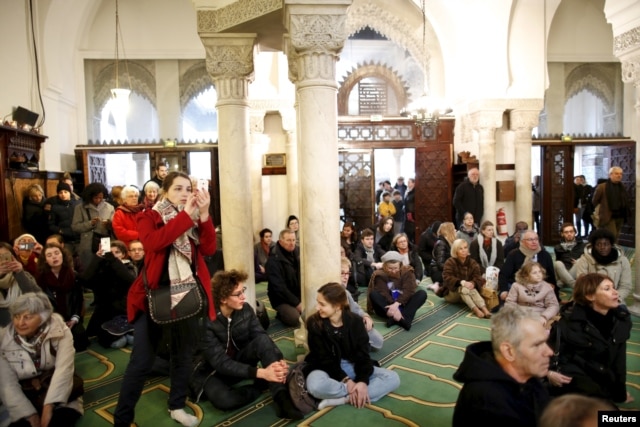 Visitors watch members of the Muslim community praying in the Paris Grand Mosque during an open day weekend for mosques in France, Jan. 10, 2016.
Muslim, Jewish communities express concerns
Activist groups say attacks against France's Islamic community have skyrocketed during the past year, one reason prompting Slimane Tirera to attend Sunday's ceremony, where he was passing out anti-discrimination flyers.
"I feel this doubly because I'm Franco-Malian," Tirera said, "and both my countries have been hit by terrorist attacks."
A few blocks away, Mustapha el-Madkour, draped in the nation's tri-colors and selling French flags, worried about reprisal attacks against his family."I'm Moroccan, but my children are French," he said. "I don't want them to live in fear. Islam is a welcoming religion."
Moroccan Mustapha el-adkour selling flags near Place de la Republique, Jan. 10, 2016. (Lisa Bryant/VOA)
Fears are also high among France's half-million-strong Jewish community, who have been leaving the country in record numbers in recent years.
"To see more and more French Jews leave the country because they no longer feel in security, but also because they feel misunderstood, that they no longer have a place… that is an insupportable idea for all French," Prime Minister Manuel Valls said during a ceremony Saturday for the four Jews killed during last year's Kosher market attack.
Terror threat remains high
While this week's ceremonies aimed to bring some closure to a dark year, the threat of terrorism remains high, experts say. Underscoring their warnings, police shot dead on Thursday a man trying to attack a Paris police station armed with a meat cleaver and fake explosives and carrying a letter pledging allegiance to the Islamic State group. The man's identity remains uncertain, but reports say he may have spent time in a German shelter for asylum seekers.
Police officers secure the area after a fatal shooting which took place at a police station in Paris, Jan. 7, 2016.
Meanwhile, a state of emergency remains in place across France. The government is mulling whether to extend it and write it into the constitution. The French parliament is expected to debate this and other new security measures next month, including a deeply controversial proposal to strip dual-nationality terrorists of their French citizenship.
French honor guards stand next to the monument at Place de la Republique in Paris, where people laid candles cards and flags during a ceremony to honor the victims of the Islamic extremist attacks, Jan. 10, 2016.
While the terror attacks have helped to burnish Hollande's stature as leader and lift his once-dismal popularity ratings, some French question whether the government could have done more to prevent them.
"I heard in the media that the jihadists specifically threatened concert halls before the Bataclan attacks," said Parisian Marc Israel, who attended Sunday's memorial ceremony. "So I'm wondering why there wasn't more police protection. Same with Charlie Hebdo."
More bread-and-butter issues may prove to be a bigger challenge for Hollande and his leftist government, however.  One year before presidential elections, the French leader has failed to fulfill his promises to create jobs and turn around the country's fitful economy.
Please follow and like us: