Actor Sean Pen Interviewed Mexican Drug Lord for 'Rolling Stone'
enero 10, 2016
U.S. actor Sean Penn met with legendary Mexican drug trafficker Joaquin «El Chapo» Guzman in Mexico, months before his capture, for an interview posted onRolling Stone magazine's website late Saturday, a day after Guzman was captured by Mexican authorities.
Guzman «proudly» volunteers to Penn «I supply more heroin, methamphetamine, cocaine and marijuana than anybody else in the world.  I have a fleet of submarines, airplanes, trucks and boats.»  Penn described Guzman as «entirely unapologetic.»
«If there was not consumption, there would be no sales,» Guzman says about his drug trafficking.  «It is true that consumption, day after day, becomes bigger and bigger. So it sells and sells.»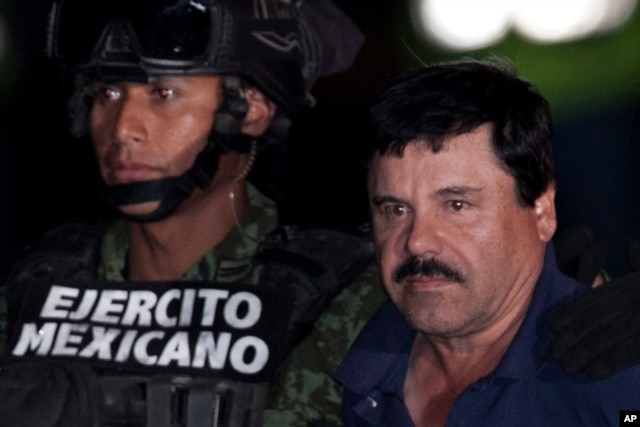 Mexican drug lord Joaquin «El Chapo» Guzman, right, is escorted by soldiers and marines to a waiting helicopter, at a federal hangar in Mexico City, Jan. 8, 2016.
Daring prison escape
Guzman's July 11 prison escape — his second in the past 14 years — was accomplished through a 1.5-kilometer underground tunnel, dug in secret from his cell to a nearby village.
It was a major embarrassment for the administration of President Enrique Pena Nieto, which had been praised for its aggressive push against Mexico's top drug traffickers.
Penn says Guzman sent his engineers to Germany last year «for three months of extensive additional training necessary to deal with the low-lying water table beneath the prison.»  He says once Guzman descended into the tunnel he was able to drive off in «a pipe-track-guided motorcycle with an engine modified to function in the minimally oxygenized space.»
Penn made plans for the interview at the same time he was staying in the same New York hotel as Mexican President Enrique Pena Nieto.  Penn says one person from the Mexican president's detail asked him for a selfie as the actor walked down a street «lined with the armored SUVs that will transport the president of Mexico to the General Assembly.»
Willing to extradite 'El Chapo'
In an earlier development Saturday, unidentified Mexican officials told multiple media outlets the Mexican government is willing to extradite Guzman to the United States.
That is a sharp reversal from the government's position after his last capture in 2014.
Guzman's escape in July from a maximum-security prison was a point of friction between Mexico and the U.S., which had requested his extradition.
The extradition process could take months, and Guzman's lawyers are expected to fight it.
Guzman was returned to the Altiplano prison after being recaptured Friday in the city of Los Mochis, which is in Guzman's home state of Sinaloa.
A soldier mans his machine gun atop an armored vehicle in a checkpoint at the hometown of Joaquin «El Chapo» Guzman in the municipality of Badiraguato, in Sinaloa state, Mexico, Jan. 9, 2016.
Hours later, he was shown to reporters, dressed in a blue shirt and track pants, being transferred from an armored van to a helicopter that was to take him and at least one accomplice back to prison.
Mexican Attorney General Arely Gomez Gonzalez said Guzman's recapture was the product of a huge surveillance operation that involved a film crew that had been working on a biography of the drug trafficker.
The Mexican marines, acting on a tip, raided a home in Los Mochis just before dawn on Friday.
A gunbattle ensued that left five suspects dead and one marine injured. During the fighting, El Chapo and one of his top lieutenants escaped through the sewers, but marines captured them later.
Six others were arrested during the operation.
Mexican federal authorities had been focusing their manhunt since October on a mountainous region of Sinaloa, in northwestern Mexico. Tracking teams  reported it appeared that Guzman had been injured while fleeing marines in rugged terrain near the borders of Sinaloa and Durango states.
Federal Police officer stands in the tunnel where according to authorities drug lord Joaquin «El Chapo» Guzman made his escape from the Altiplano maximum security prison in Almoloya, west of Mexico City, July 16, 2015.
2001 escape
Guzman was first captured in 1993, but he escaped in 2001 with the help of prison guards. After more than a decade on the loose, he was recaptured early in 2014, with the help of intelligence that U.S. authorities provided to Mexico.
Mexico has issued arrest warrants for more than 20 former officials, guards and police officers for their alleged participation in Guzman's escape last year. Ten civilians are also in detention.
Guzman escaped through a rectangular hole found underneath a shower of his prison cell, moving through a fully ventilated tunnel equipped with electric lighting. Authorities also found a motorcycle modified to run on rails; the vehicle apparently was used to haul tools and dirt away from the subterranean site during construction.
Please follow and like us: