WHO Calls for $56 Million to Fight Zika Virus
The World Health Organization says it will need some $56 million to implement its strategic response designed to contain the Zika virus, which has been linked to birth defects in newborns.
The WHO said Wednesday that its strategy focuses on mobilizing and coordinating partners, experts, and resources to help countries enhance surveillance of the Zika virus and disorders that could be linked to it.
WHO says it has tapped an emergency contingency fund to pay for Zika response until it collects the necessary funds, which will be distributed among the World Health Organization and other international partners in the fight against the virus.
Unorthodox tools
On Tuesday the organization said countries dealing with Zika outbreaks should consider unorthodox tools, such as genetically modified mosquitos, to halt the spread of the virus.
The Zika virus is transmitted primarily by the Aedes aegypti mosquito.
Both the Cayman Islands and Panama have had some success in releasing genetically altered male mosquitos that cannot produce viable offspring.
But environmentalists caution against using altered mosquitos, saying the long-term effects of killing off an entire insect population is unknown.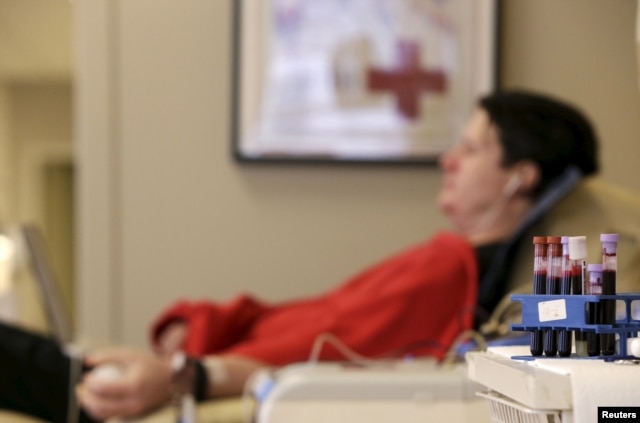 Bill Myers of Washington has blood platelets drawn at the American Red Cross Charles Drew Donation Center in Washington Feb. 16, 2016.
Blood donations
Also Tuesday, the U.S. Food and Drug Administration recommended people who have had potential exposure to Zika put off donating blood for at least four weeks.
They include people who show any symptoms of Zika, anyone who has traveled to a Zika-stricken area, and those who have had sex with someone who lived in or traveled to one of those countries in the last three months.
No treatment
There is currently no treatment for Zika and much remains unknown about the disease.
Experts suspect Zika could cause microcephaly, a condition in which babies are born with unusually small heads because the brain has not developed properly or has stopped growing.
The Zika virus is becoming a major problem in Latin America, particularly in Brazil, which reports more than 4,300 suspected cases of microcephaly.