Veteran US Olympians Ready for Possible Last Grasps at Gold
marzo 9, 2016
BEVERLY HILLS, CALIFORNIA—
This summer's Olympic Games in Rio de Janeiro could offer a last grab at glory for a handful of veteran U.S. athletes who say that mental toughness and refined approaches to training are allowing them to perform at a top level late in their careers.Olympians preparing for their fifth and even sixth appearances said they felt torn between taking one more shot at the gold and moving on to other things.
Marathoner, age 40
«It's just this craving,» said Meb Keflizighi, 40, who would be the oldest U.S. marathoner in Olympic history. «There's a craving to be a champion; there's a craving to spend time with your family.»
FILE – Elite men runners leave the start line in the 118th running of the Boston Marathon April 21, 2014. Fourth from left is eventual winner Meb Keflizighi
The father of three children, he broke a three-decade winless streak for American men at the Boston Marathon in 2014. Keflizighi, of Mammoth Lakes, California, has competed in the past three Summer Games but only received one medal, a silver in 2004 at the Athens Games.
The Eritrean-born runner said he realized the clock is ticking.
«As an athlete … you can't go back in 10 years, 15 years and say, 'Now I'm going to do it,'» said Keflizighi, who would not say whether the 2016 Games would be his last.
Cyclist, age 41
Cyclist Kristin Armstrong, 41, has more experience making decisions about retiring, having done so twice.
Armstrong, who only began cycling professionally at the age of 29, first left the sport in 2009 when she was preparing to start a family. She returned to compete in the 2012 London Games, where she won her second gold medal in time trial, and retired again when she needed hip surgery.
The time off has helped extend her career, said the resident of Boise, Idaho.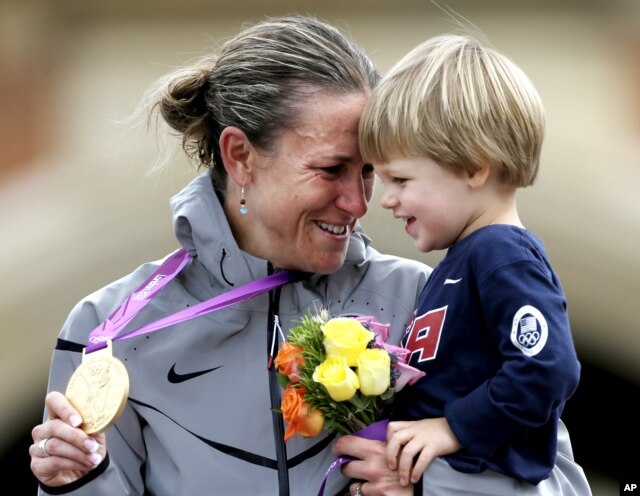 FILE – Gold medalist Kristin Armstrong of the United States celebrates with her son, Lucas, after the women's individual time trial event at the 2012 Summer Olympics in London, Aug. 1, 2012.
«It gave me a mental break,» she said. «I look at other athletes … and they've been competing longer than I have, though they're younger.»
Swimmer, age 30
Armstrong is far from alone in making a comeback to elite competition after retiring. Swimmer Michael Phelps, 30, announced in 2014 that he would hang up his trunks after snagging two dozen Olympic medals, including a record-breaking 18 golds.
He told reporters he was coming back for one last shot at Olympic glory, in part because of disappointment that he had not worked hard enough before the London Games.
«It was really hard to keep me in the pool and to keep me motivated going into 2012,» said Phelps, adding he was looking forward to having his yet-to-be-born son there to see his last race at the August Games. «This is my last chance to do it.»
Unlike Armstrong, Phelps said he expected his second retirement from competition to be final.
«When I say this is my last one, this is my last one,» said Phelps, who lives in Baltimore. «If I go to Rio and don't final, I'm probably going to be a little pissed, but that's what I had. I think I'll be able to accept it.»
FILE – Olympic skeet shooter Kim Rhode hits a clay pigeon as she practices at Oak Tree Gun Club, in Newhall, California, June 8, 2011.
Shooter, age 36
But the most experienced member of the U.S. Olympic team, shooter Kim Rhode, 36, already has the 2020 Summer Games in Tokyo on her mind.
The only American to have medaled in five consecutive Olympics, Rhode pointed to Sweden's Oscar Swahn, who won a silver in shotgun at the 1920 Olympics in Antwerp at the age of 72.
«I have a few more in me,» said Rhode, of Big Bear Lake, California. «Definitely not going to be my last Olympics, win lose or draw.»​