US Poll: Trump, Clinton Leading Race for White House
The latest U.S. political survey shows billionaire real estate mogul Donald Trump maintaining his lead in the crowded field of Republican Party candidates seeking the party's 2016 presidential nomination, with former Secretary of State Hillary Clinton ahead in the Democratic contest.
The Quinnipiac University poll released Thursday showed the outspoken Trump with the support of 25 percent of Republicans polled, with 17 percent for former neurosurgeon Ben Carson and 12 percent for one-time technology company executive Carly Fiorina.
In the Democratic contest, Clinton gets 43 percent support, with 25 percent for an independent socialist Democrat, Vermont Senator Bernie Sanders, and 18 percent for Vice President Joe Biden, who is considering whether to enter the contest.
The survey said that in hypothetical matchups in the November 2016 national election, Clinton would edge Trump but lose to Carson, Bush and Fiorina.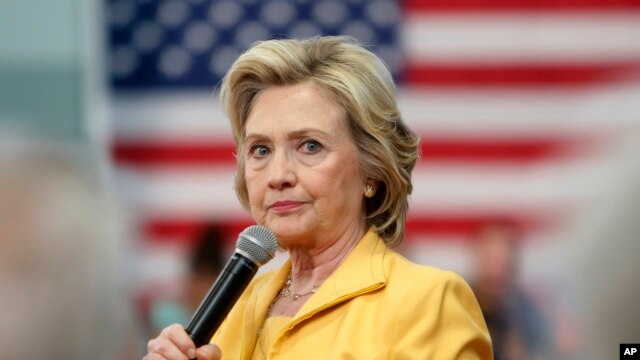 FILE – Democratic presidential candidate Hillary Rodham Clinton listens to questions during a campaign stop, July 28, 2015, in Nashua, N.H
Low scores on honesty, trustworthiness
The poll said Clinton and Trump both have the worst ratings among all the candidates on being honest and trustworthy.  Clinton's political standing has waned in recent months amid questions about her handling of classified national security material on the private email server she used while serving as the country's top diplomat from 2009 to 2013.
None of the three leading Republican contenders has held elective office before.  But four months before the first voting in state-by-state nominating contests, Republican voters are showing a preference for political outsiders over current and former senators and governors.
The Quinnipiac poll, a survey of nearly 1,600 voters in the last few days, pegged support for former Florida Governor Jeb Bush, the son and brother of two U.S. presidents, at 10 percent, with nine percent saying they favor Florida Senator Marco Rubio. None of the other 10 Republican candidates topped seven percent.
Trump has drawn a following with an anti-Washington message and calls for deporting the 11 million illegal immigrants in the country. But the survey also counted 29 percent of Republican voters as saying they «would definitely not support» Trump.
Please follow and like us: