US Education Department Appeals for Compassion in Schools
enero 6, 2016
Will the new year bring peace to the world and more tolerance and goodwill among its citizens? The U.S. Department of Education certainly hopes so.
In the wake of extreme acts of violence and the ongoing worldwide refugee crisis, the department is trying to do its share to promote peace and understanding in the U.S. It is reaching out to schools to ensure they are maintaining safe, respectful and nondiscriminatory learning environments for all of their students.
Catherine Lhamon, the department's assistant secretary for civil rights, noted that as the U.S. welcomes refugees into the country, there will be «more and more conversations about who we are as a nation and what takes place in schools.»
«And we want to make sure that all of our schools remember that they need to serve all of our students," she added.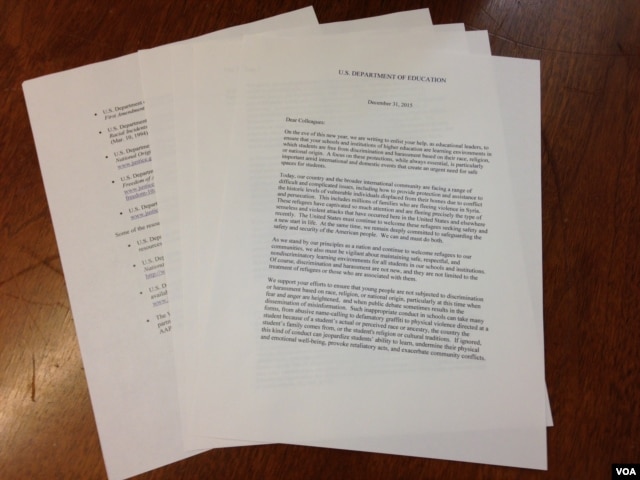 Outgoing Secretary of Education Arne Duncan and incoming Acting Secretary John B. King Jr. signed off on a «Dear Colleagues» letter to U.S. schools, encouraging environments that are free of discrimination.
So outgoing Secretary of Education Arne Duncan and incoming Acting Secretary John B. King Jr. signed off on a «Dear Colleagues» letter to schools and universities across America, encouraging classroom and campus environments that are free of bullying and other forms of discrimination.
The three-page letter reminds schools of their responsibility under federal civil rights laws to prohibit discrimination based on race, religion or national origin.
It states, in part, "These refugees have captivated so much attention and are fleeing precisely the type of senseless and violent attacks that have occurred here in the United States and elsewhere recently. The United States must continue to welcome these refugees seeking safety and a new start in life. At the same time, we remain deeply committed to safeguarding the safety and security of the American people. We can and must do both."
The letter also includes links to resources designed to help school officials, educators, students, families and communities promote positive school climates.
The strategies include «making sure that there's somebody who is assessing the campus climate and ensuring that students feel comfortable reporting that they do feel safe, that the schools know what's happening and that they have a process in place to respond to any incidents that may come up," said Lhamon.
The goal of the letter, she added, is to ensure that all U.S. schools can be safe places where students can focus on learning.
"We are really excited about the ways that we have seen our schools try to make sure that all students can be safe, and we wanted to send a reminder to make sure that no one is unclear about that message and that we remember to deliver for all students," Lhamon said.