Turkey Makes Arrest in Connection With Istanbul Bombing
enero 13, 2016
A Turkish official said Wednesday authorities had arrested one person in connection with the suicide bombing Tuesday in Istanbul that killed 10 people.
Interior Minister Efkan Ala said the detention happened late Tuesday, but did not give any further details on the suspect's identity or possible role in the attack.
Ala also said the bomber was not on a list of people wanted by Turkey.
Germany's Foreign Minister Frank-Walter Steinmeier told reporters in Berlin that at least eight Germans were among the dead and nine among the injured.
German Interior Minister Thomas de Maiziere, who traveled to Istanbul immediately after the attack, told reporters that there is no sign that Germans were specifically targeted in the attack. He added that he sees no reason to refrain from traveling in Turkey.
Turkish authorities arrested a number of suspected Islamic State militants during raids Wednesday, including three Russian nationals.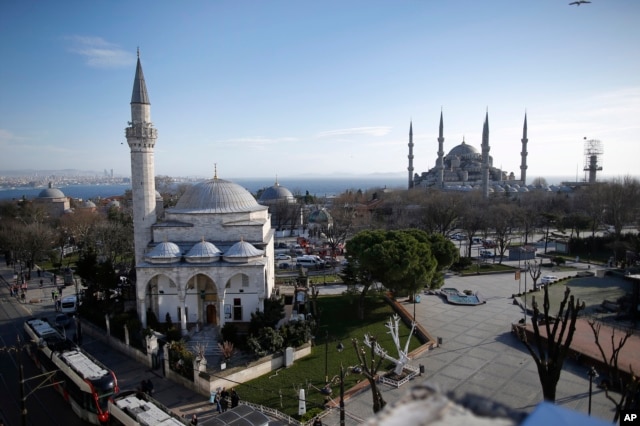 A view of the Sultan Ahmed Mosque, right, better known as the Blue Mosque in the historic Sultanahmet district of Istanbul, the area of an explosion, Jan. 12, 2016.
Prime Minister Ahmet Davutoglu said after Tuesday's attack in Istanbul's historic Sultanahmet square that the bomber was an Islamic State member.  He pledged to fight the militant group until it no longer «remains a threat» to Turkey or the world.
Turkish authorities have identified him as Nabil Fadli and said he was born in Saudi Arabia in 1988. He had recently entered Turkey from Syria as a refugee, according to the Turkish migration office.
The Sultanahmet neighborhood is Istanbul's main sightseeing area and home of the Topkapi Palace, Blue Mosque and Hagia Sophia museum.
Turkey has been on alert for attacks since an October double suicide bombing killed more than 100 people at a gathering of peace activists outside a train station in the capital, Ankara.
The government cancelled planned New Year's celebrations in Ankara after detaining two suspected Islamic State members believed to be planning suicide attacks.
Turkish warplanes are taking part in the U.S.-led campaign of airstrikes targeting Islamic State militants in Syria.