Trump Promotes His Brand as He Runs for White House
octubre 26, 2016
VOA News
Republican presidential candidate Donald Trump staked his claim Wednesday to a home on Washington's fabled Pennsylvania Avenue, cutting the ribbon to officially open his new luxury hotel, even as he continues his campaign to move into the White House a few blocks away.
Trailing Democrat Hillary Clinton in the national polls 13 days ahead of the November 8 election, the real estate mogul has spent valuable campaign time this week promoting his personal brand. He started an online Trump TV newscast with campaign workers serving as television anchors on Monday and promoted one of his posh golf resorts in Florida on Tuesday, while posing for pictures with the staff that works there.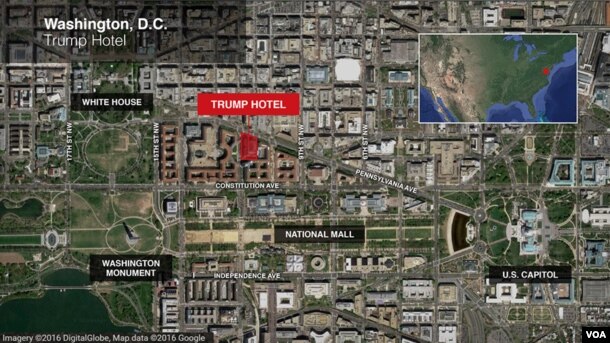 The Trump International Hotel in downtown Washington has been open since September and he already has visited the site three other times during the long 2016 campaign. It is a short walk from the White House, which Trump hopes to take over when President Barack Obama leaves office January 20.
He said that his newest property, «with the notable exception of 1600 Pennsylvania Avenue,» the White House address, «is the most coveted piece of real estate in Washington, the best location.»
Trump said his company's transformation of the Old Post Office into the hotel contrasts to government projects that he said «are always over budget, behind schedule and simply nothing works.»
Critics question endorsement
Some Trump critics questioned his trip to Washington, where he has virtually no chance of winning the city's three electoral votes, and with time dwindling in his effort to overtake Clinton, a former U.S. secretary of state looking to become the country's first female president. But Trump campaign manager Kellyanne Conway rebuffed complaints about the political strategy behind Trump's appearance at the hotel.
"He's making a pit stop here in Washington and his under-budget, ahead-of-schedule hotel is really remarkable,» Conway told NBC's Today show. «It shows Americans the tangible accomplishments of Donald Trump. He's somebody who builds things. He's somebody who fixes things.»
«And you know, respectfully, Hillary Clinton has time to go to an Adele concert and everybody thinks that's really cool,» Conway said. «Donald Trump stops off to unveil just an incredible, stunning piece of architecture, new hotel, first-class hotel and everybody's hair is on fire."
Clinton in Florida
Clinton, campaigning in the key battleground election state of Florida, went to the Adele concert Tuesday, where the pop artist endorsed her candidacy even as she acknowledged she can't vote for her because she is a British citizen.
Clinton is in Florida again on Wednesday, her 69th birthday. The 70-year-old Trump spent two days this week visiting seven cities in the state.
He acknowledged he has almost no chance of winning the election if he does not carry Florida, where 29 electoral votes are at stake.
The U.S. elects its presidents through contests in each of the 50 states and the national capital, Washington, with the most populous states, Florida among them, having the biggest influence on the outcome, rather than through a national popular vote. An average of recent polls in the state shows her with a 1.6-percentage-point edge, but the most recent survey has Trump ahead by 2 percent.
The overall national winner needs a majority of 270 electoral votes in the 538-member electoral college. At the moment, numerous polling analysts say Clinton has enough of an electoral college cushion to claim the presidency. But several state contests are close, with Trump in striking range of overtaking her in key states that could yet overturn Clinton's expected victory.
Her national polling edge over Trump has slipped in recent days to about four percentage points, about two points closer than it had been, and some of the state-by-state contests have narrowed, too.
But Trump continues to face resistance to his campaign from Republicans who normally have supported their party's presidential nominees.