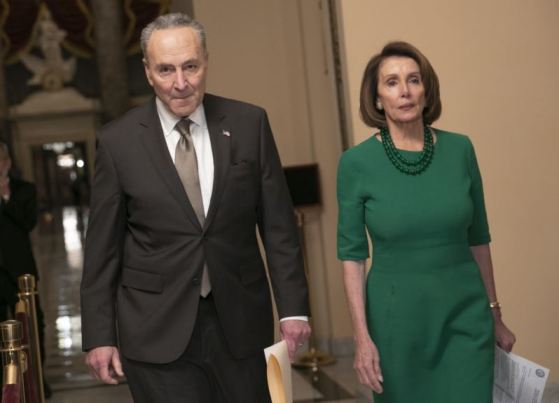 Trump Invites Congressional Leaders to Briefing as Shutdown Continues
enero 2, 2019
VOA News
WASHINGTON — U.S. President Donald Trump has invited Democratic and Republican leaders in Congress to what the White House is calling a «border security briefing» Wednesday, while a partial government shutdown hits its 12th day.
Senate Majority Leader Mitch McConnell is expected to attend the session. It is not clear if Senate Minority Leader Chuck Schumer or fellow Democrat and House speaker-designate Nancy Pelosi will be there, or whether the two sides will use the meeting to negotiate plans to reopen the government.
Democrats will have a majority in the House of Representatives when the new Congress opens Thursday, and Pelosi plans to hold votes on a pair of bills that would fund most of the shuttered agencies through the end of September and the Department of Homeland Security through February 8.
The proposed legislation does not include the $5 billion in funding for a wall at the U.S.-Mexico border that Trump is demanding in any spending measure he signs. Democrats have previously offered $1.3 billion in funding for other border security measures instead.
​
White House Press Secretary Sarah Huckabee Sanders said in a statement late Tuesday that the Democratic plan is a «non-starter» and «fails to secure the border and puts the needs of other countries above the needs of our own citizens.»
Pelosi and Schumer have rejected Trump's wall plan as «expensive and ineffective» and say Trump has yet to put forth a plan that has a chance to pass in both the House and Senate.
Ahead of their potential meeting, Trump and Pelosi traded comments Tuesday on Twitter.
«Border Security and the Wall 'thing' and Shutdown is not where Nancy Pelosi wanted to start her tenure as Speaker! Let's make a deal?» Trump said.
Pelosi responded that Trump «has given Democrats a great opportunity to show how we will govern responsibly & quickly to pass our plan to end the irresponsible #TrumpShutdown.»
Before the shutdown went into effect, the Senate passed a stopgap funding bill that would have funded the now-closed government operations through February 8 without the wall funding. The House passed its own bill that did have funding for the wall.
Pelosi said in a letter to colleagues Tuesday that lawmakers in the Senate should now support the new Democratic plan after their earlier action, and that if they reject it, then they would be «fully complicit in chaos and destruction» caused by the ongoing shutdown.
About 800,000 government workers have either been told to stay home or continue working without pay until the shutdown is resolved.
Tourists in Washington are seeing new effects of the impasse Wednesday as the Smithsonian museums and the National Zoo close until a deal is reached. The National Gallery of Art will be closed starting Thursday.