Toxic Water Supply Plagues US City
febrero 11, 2016
Smita Nordwall
The government in the northern U.S. state of Michigan is scrambling to help resolve the toxic water crisis in the city of Flint, where lead has been found in the bloodstreams of more than 200 children.
Here's a look at the who, what, where and why of the public health crisis that has poisoned the Flint water supply for more than a year.
What is wrong with the water in Flint?
There's too much lead in it.
Lead exposure is dangerous for all people, but can have devastating effects on children, irreversibly harming their brain development, lowering their intelligence, stunting growth and leading to aggressive and anti-social behavior.
How did lead get in the water?
In 2013, the Flint City Council decided to save $5 million by abandoning the city's longtime arrangement with Detroit to purchase water sourced from Lake Huron. Instead, it decided the city would connect to a new pipeline to deliver water directly from the lake. But with that pipeline still under construction, officials needed another source of water.
The city began using the Flint River as a water source in April 2014. The water from the Flint River was much more corrosive than the water that had been piped in from Detroit, and it caused lead found in plumbing materials to leach into people's tap water.
Who is responsible?
There is no record of the City Council voting to specifically use the Flint River as the short-term solution, but a state-appointed emergency manager who oversaw the switch to that water source blames the decision on the council. City officials, conversely, are blaming the emergency manager.
The state's attorney general has launched an investigation into the contamination crisis, and so have federal authorities.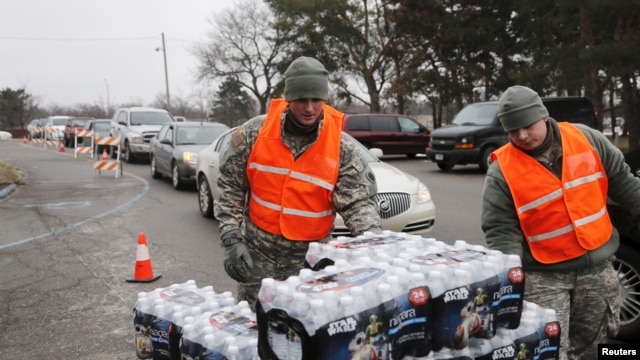 Michigan National Guard members distribute water to a line of residents in their cars in Flint, Michigan, Jan. 21, 2016.
How widespread is the contamination?
Levels of toxic lead contamination can vary from neighborhood to neighborhood and home to home because not all plumbing materials are made of lead.
Flint residents began to complain about the water's taste and appearance almost immediately after the water source was switched. Others reported symptoms, including rashes and hair loss, but local officials insisted the water was safe.
Researchers at Virginia Tech University decided to study the water and, in September 2015, concluded that it was «creating a public health threat.» They found that at least 25 percent of homes in Flint had levels of lead that were well above the federal level, and nearly every home had water that was distasteful or discolored.
How many children are affected?
The Centers for Disease Control and Prevention defines an elevated blood lead level as 5 micrograms of lead in a deciliter of blood. A study released in September 2015 by Flint's Harley Medical Center found that the number of children 5 years and younger meeting that threshold had doubled since the city's switch.
Michigan Governor Rick Snyder said recently that 200 cases of elevated levels have been documented since last fall.
But without a comprehensive survey of all the homes in Flint, it is impossible to say how many of the city's children might have been ultimately exposed.
What's being done to remedy the situation?
The city switched back to the Detroit water supply last October.
The Michigan National Guard, state police and hundreds of volunteers have been distributing water testing kits, water filters and bottled water to residents.
Representatives of the Michigan Department of Environmental Quality and licensed plumbers plan to visit about 400 homes citywide to teach homeowners how to accurately test water so they can submit regular samples for analysis.
The state also is launching what it calls a «streamlined system» of assisting residences that test high for lead and copper in their water. The effort includes steps to get people the health-related services they need more rapidly, including home visits, inspections and transportation for appointments.
The state already has directed more than $37 million toward the disaster in Flint, and Governor Snyder is calling for a $195 million plan to help resolve the crisis.
Could this problem have been prevented?
Yes. Experts say the problem could potentially have been avoided by simply adding phosphorous to the water. That fix would have only cost the city$50,000 a year.
A former public works director, Howard Craft, has said anti-corrosive treatments weren't added to the Flint River water because of concerns about bacteria.
A Virginia Tech expert who first raised public concerns about lead in Flint's water told the Associated Press that the comment by Craft was a «contrived explanation after the fact that makes no sense.»