Suspect for Harris Avenue Murder Arrested
Colonel Michael J. Winquist, Chief of the Cranston Police Department, announces that a suspect has been arrested for the murder that occurred on Harris Avenue in the City of Cranston on September 8, 2020.
On September 8, 2020, at approximately 4:06 am, Cranston Police Department Dispatch received a 9-1-1 call that a man had been shot on Harris Avenue. When Patrol Officers arrived, they found Jamal Vasquez, age 24, of Providence lying in the driveway of 46 Harris Avenue suffering from an apparent gunshot wound to his face. Officers attempted to render
medical aid to Mr. Vasquez before it was determined he was deceased. A stolen handgun was found next to Mr. Vasquez's body, which was believed to have been in his possession when he was shot.
An investigation by the Cranston Police Department immediately commenced. It was learned that a birthday party had been taking place at a nearby residence attended by young men and women from Cranston and Providence. The victim drove a female acquaintance to the location to physically confront a young woman with whom she had an ongoing feud. When they arrived, the female came out of the party, along with several other individuals, and both women began to fight in the street. The victim attempted to physically intervene, at which time he was confronted by several male subjects who took issue with his involvement. At some point, the victim produced the handgun he had on his person. It is alleged the suspect, identified as Jose Herpin, age 23, of 36 Calhoun Street, Providence, RI, then produced a handgun of his own, intentionally fired one shot, striking the victim in the face, fatally wounding him. The suspect entered a black sedan and fled from the area as the crowd dispersed.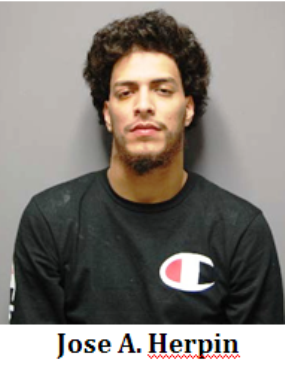 It is undetermined if the victim and suspect knew each other before the incident.
On September 22, 2020, an affidavit and arrest warrant was signed for Jose A. Herpin, charging his with Murder (1st Degree) for the killing of Jamal Vasquez. The Providence Police Department apprehended Mr. Herpin on the afternoon of October 1 after a brief motor vehicle and foot pursuit. While being pursued, Herpin attempted to discard a handgun, which
was recovered.
This morning Herpin was arraigned in the Third District Court in Warwick on the following charges:
• Murder (1st Degree)
• Using a Firearm while Committing a Crime of Violence
• Carrying a Dangerous Weapon/Substance while Committing a Crime of Violence
• License or Permit Required for Carrying Pistol
He was ordered held without bail pending a bail hearing. Herpin was also presented as a Superior Court violation on a previous criminal charged for Robbery-1st Degree and Conspiracy.
Colonel Winquist stated, "I wish to commend the outstanding work by all members of the Cranston Police Department, specifically the men and women of the Detective Division and Bureau of Criminal Identification. They committed countless hours and were fully immersed in bringing Mr. Vasquez's killer to justice. I also would like to recognize and thank members
of both the Providence Police Department and East Providence Police Department, who provided invaluable intelligence and support throughout the investigation, as well as prosecutors from the Rhode Island Office of the Attorney General.
This murder is yet another example of the senseless tragedies caused by young men unlawfully carrying firearms to settle conflicts in meaningless disputes. As members of law enforcement, we must continue to stem the flow of illegal guns on our streets through proactive policing measures and continue to track and share intelligence on individuals prone to crimes of violence and other illicit activities."