RIDOT KICKS OFF TESTING FOR AUTONOMOUS VEHICLE PILOT PROJECT
febrero 20, 2019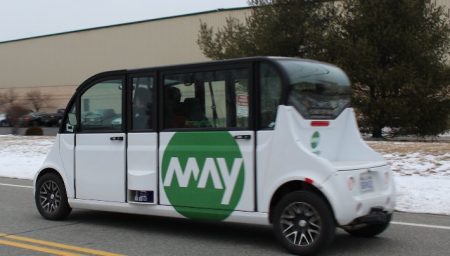 «Little Roady Shuttle» to aid research on autonomous vehicle technology»
Rhode Island Department of Transportation (RIDOT) Director Peter Alviti, Jr., along with state and local officials, today hosted a demonstration of autonomous vehicle technology at the Quonset Business Park in North Kingstown. The vehicles are being tested this week on low-volume roads in the Park as the initial phase of a pilot project scheduled to launch in Providence this spring.
The debut of the autonomous vehicles is the latest step in a multi-agency effort called the Rhode Island Transportation Innovation Partnership (TRIP), which RIDOT launched in 2017. TRIP also includes a research component, with the goal of studying autonomous mobility solutions, ridership, workforce impacts, environmental impacts, and technology adoption, among others.
The research being conducted in this pilot project will help the Department better understand the opportunities and challenges that come with integrating this new technology onto Rhode Island roads. The research will help improve transit and provide information for communities, the workforce, and policymakers.
«This is a very exciting day as we kick-off testing of autonomous vehicles, putting Rhode Island on the map as a leader in this new high-tech field in transportation,» Governor Gina Raimondo said. «And we'll do it in a careful and safe manner partnering with institutions of higher education to carefully study and evaluate the service and its integration on Rhode Island roads.»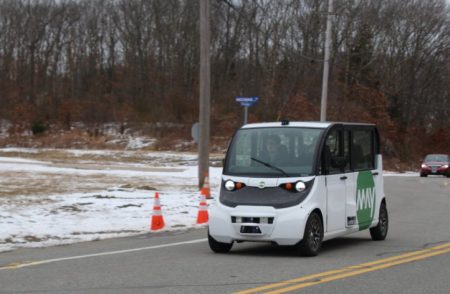 «Under Governor Raimondo and Director Alvitti's leadership, Rhode Island is leading the way with the Little Roady pilot program that will explore all aspects of autonomous vehicle technology in a responsible manner,» said Congressman Langevin. «I am proud to be a part of this exciting day, and I will continue to support RIDOT and secure federal resources for innovative transportation solutions for Rhode Island.»
«Thanks to the Governor's RhodeWorks program, we've made great strides in rebuilding our transportation system,» Alviti said. «At the same time, we're working on projects like the autonomous vehicle pilot project to make our transportation system better, and provide more mobility choices for our customer, the Rhode Island taxpayer.»
«This project gives us the opportunity to gain first-hand experience with this new technology and that information will be invaluable when we look ahead to the impact that autonomous vehicles will have on public transportation in the future,» said Scott Avedisian, CEO of the Rhode Island Public Transit Authority (RIPTA). «Having some of our bus operators ride the shuttle routes is also going to allow them to share important feedback on the role of on-board personnel and passenger needs.»
«Quonset is pleased to host this innovative transportation pilot as a test site,» said Steven King, Managing Director of the Quonset Development Corporation. «As home to many Rhode Island companies at the forefront of engineering and design, Quonset is excited to assist in the fielding of this cutting-edge technology to Rhode Island.»
«Every time we expand to a new city, it allows us to learn something new. Partnering with RIDOT, we are more closely integrated with existing rail and other services than ever before,» said May Mobility CEO Edwin Olson. «We're fanatical about solving real-world transportation problems, and with this new route, we'll show how our self-driving technology can have a positive impact for the citizens of Rhode Island. Not someday, but today.»
Called the Little Roady Shuttle, each vehicle is fully electric and capable of carrying five passengers as well as an attendant who is trained how to operate the vehicle manually if needed. Up to six vehicles will be on the road at the same time, operating on low-speed roads along a 5-mile route along the Woonasquatucket River corridor with 12 stops, from Olneyville to Providence Station.
The Little Roady shuttles are provided by May Mobility, Inc., which entered into a public-private partnership with RIDOT last fall, following a competitive request-for-proposals (RFP) process.
Under the terms of the public-private partnership, RIDOT will contribute $800,000 for the first year of operation. This includes $300,000 of 100 percent federal research funds through the Federal Highway Administration and a $500,000 grant awarded by the R.I. Attorney General's Office as part of a settlement with Volkswagen. RIDOT's contract with May Mobility includes options to extend the service for an additional two years.
The testing period in Quonset will be followed by similar testing in Providence, prior to the start of service. This includes testing of the vehicles and all their sensors, and a rigorous acceptance testing protocol in which the vehicles must pass several safety tests including adhering to lanes, avoiding obstacles, and safe operationsin both daytime and nighttime conditions as well as in different types of adverse weather. Between the two locations, the fleet will undergo 500 miles of testing.
RIDOT and May will develop a public education campaign featuring signs along the route and a website as the launch of the service draws nearer.
TRIP includes many partner agencies and governmental entities, including the City of Providence, the Rhode Island Public Transit Authority (RIPTA), the Rhode Island Division of Motor Vehicles and the Quonset Development Corporation. Various higher education institutions are expected to participate in the research program.
May Mobility, a Michigan-based startup, is developing self-driving shuttles for college campuses, corporate clients, and central business districts. It launched a private corporate service in Detroit in June 2018 and has entered into agreements for public service routes in Columbus, Ohio and Grand Rapids, Michigan. The company plans to hire fleet attendants and managers from Rhode Island and will set up a local operations office in Providence.
Please follow and like us: