RI State Police and Impossible Dream bring people together to help fulfill 10-year-old's dream
febrero 15, 2019
The Rhode Island State Police and imPossible Dream, a charitable organization that helps chronically ill children, today brought together a group of individuals, organizations and companies that are working together to help make a dream come true for a 10-year-old boy from Cranston.
Travis, a fourth grader from Cranston, suffers from a rare congenital disorder known as Caudal regression syndrome. He has undergone more than 20 surgeries, from minor procedures to major operations on his bladder, stomach, feet and mouth. This boy, who never thought he'd even be able to walk, has lots of friends and classmates rooting for him – and now a group of strangers, too.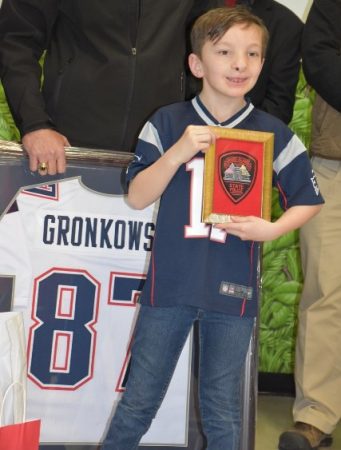 Diane Florio Penza, Executive Director of imPossible Dream in Warwick, said Travis reached out to her agency a few months ago with a simple wish: he wanted a "man cave" of his own where he can chill and be alone, especially while recovering from his surgeries.
When the Associates of the Rhode Island State Police (ARITA), a charitable organization that supports Rhode Island State Troopers and various community programs, donated $3,000 to her imPossible Dream in December, Ms. Penza immediately earmarked that money for Travis' man cave and set about soliciting donations and lining up volunteers to build, furnish and decorate Travis' man cave, with assistance from the Rhode Island State Police.
"When we told people about Travis, and how imPossible Dream was helping create a man cave for him, several individuals stepped forward saying they wanted to help make this boy's dream come true," said Lieutenant Colonel Kevin M. Barry, Acting Superintendent of the Rhode Island State Police and Acting Director of the Department of Public Safety. "We are happy we were able to facilitate these donations to give Travis a man cave worthy of a New England sports fan."
Construction likely won't begin until spring, but with Travis scheduled to undergo another major surgery in two weeks, members of the Rhode Island State Police worked with imPossible Dream to bring together many of the donors together today for a chance to meet Travis ahead of time and tell him of their plans to help make his dream come true.
Travis and his mother Kadie Williams, grandparents and other relatives, as well as his long-time pediatric nurse practitioner, Linda Del Vecchio, were on hand, along with Ms. Penta and Jean McGowan, President of imPossible Dream, Lt. Colonel Barry, Rhode Island State Police Major Christopher Dicomitis and Captain Darnell Weaver and the following donors:
James Marsh Jr., president of ARITA, which donated $3,000 raised during a charity event and raffle among members
Michael Winter, president of Builders Surplus, which is donating much of the construction material
Ron and Pete Cardi of Cardi's Furniture, who donating the couch and other furnishings
Steven Barbato of Stevie B. Sports Memorabilia of Warwick, who donated several framed prints and other memorabilia to help decorate the man cave
Mr. Barbato and Bob Tasca Jr. of Tasca Automotive Group presented Travis with an autographed Rob Gronkowski game shirt, as well as framed photos from the Patriots' recent Super Bowl victory and other sports memorabilia. 
Michael Valentin, a Rhode Island boxer who made national headlines last year when he disclosed after a winning match at Twin River Casino that he has worn a colostomy since birth. He was immediately suspended from fighting by the local athletic commission, though doctors have since cleared him to fight again. He said the next time he steps into the ring, it will be in memory of a 10-year-old boy from Kentucky who killed himself last month after being bullied because he wears a colostomy bag.
Detective Courtney Elliott of the Rhode Island Troopers Association also presented a separate check for $250 in Travis' name to imPossible Dream, so that Travis can pay it forward by helping some other child's dream come true. She also gave Travis a small statue of a Rhode Island State Police trooper and a framed patch for his room.
Travis' mother said she was overwhelmed by the tremendous outpouring of support for her son, especially after all he has been through. "Magical moments and dreams fulfilled are happening for Travis due to the generosity and thoughtfulness of Diane from Impossible Dream and so many others. I couldn't thank you enough for the dreams you provide not only for Travis, but for so many children who sometimes could use an extra light shined upon them. What you provide is an endless journey of happiness for kids who suffer. Travis and our family will always be grateful for what you have done."
Ms. Penza thanked all involved with contributing to Travis' man cave. "God bless people – they are so generous when it comes to making dreams come true for children."