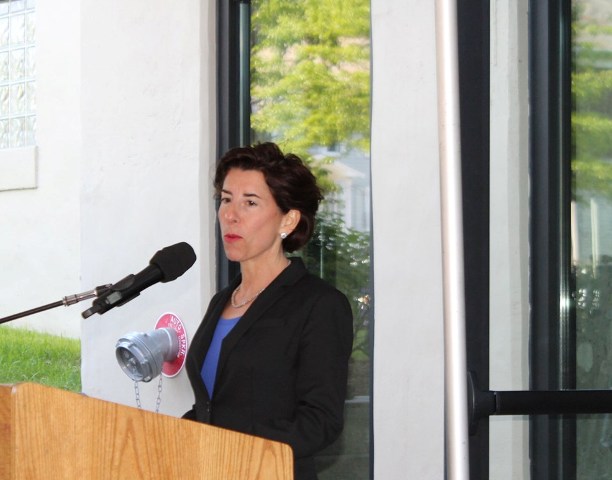 Rhode Island to be U.S. Headquarters for GEV Wind Power New facility at Quonset will create approximately 125 wind-related jobs in Rhode Island
junio 25, 2019
PROVIDENCE –Governor Gina Raimondo announced that GEV, one of the largest wind turbine maintenance companies in the world will make Rhode Island the home of its U.S Headquarters. GEV will create approximately 125 jobs consisting of blade technicians, support staff, and management.
"Rhode Island is a national leader in offshore wind, and I'm thrilled that GEV Wind Power is choosing our state for its U.S. headquarters. Over the past few years, we've created nearly 7,000 clean energy jobs and are on track to meet our goal of increasing renewable energy tenfold by next year. As this industry continues to grow, we will keep working to ensure Rhode Island remains the economic epicenter of offshore wind in the United States," said Governor Gina Raimondo.
Daniel Boon, the US General Manager for GEV Wind Power US said, "We are truly excited about setting up our base in Rhode Island where Governor Raimondo and Commerce Secretary Pryor's welcome party and support for the industry has been incredible. As we gear up, there will be a tangible opportunity for Rhode Islanders to come and talk to us about the options for an exciting career in wind energy and join what is becoming one of America's fastest growing industries."
Rhode Island Commerce Secretary Stefan Pryor said, "We are very pleased that one of the world's leading wind turbine maintenance companies, GEV Wind Power, has decided to establish their U.S. headquarters right here in Rhode Island. This agreement will strengthen our renewable energy supply chain and will enable Rhode Islanders to access clean energy careers. We are grateful for Governor Raimondo's vision and leadership in this key area."
This is the latest announcement in a string of developments putting Rhode Island at the forefront of the U.S. offshore wind industry. Rhode Island is home to the first offshore wind farm in the country, and the recently announced Revolution Wind project is expected to create more than 800 jobs clean energy jobs with the potential to power half the homes in Rhode Island.
Additionally, Ørsted and Eversource, the companies behind the Revolution Wind project, have pledged $4.5 million to support offshore wind education and supply chain development for the growing offshore wind industry in Rhode Island. There are now approximately 16,000 jobs in Rhode Island's clean energy economy, a 74 percent increase since 2014.
The Board of the Rhode Island Commerce Corporation tonight approved GEV Wind Power to receive tax credits under the Qualified Jobs Tax Credit program for up to $1.93 million over a 10-year period. The actual tax credit amount will be determined by the number and wages of the new jobs created. As with all Qualified Jobs tax credits, credits are only awarded after jobs are created and generating state income tax withholdings. The company has committed to maintaining the jobs for at least 12 years.
Based on a third-party analysis, over the twelve-year period, Rhode Island is projected to realize a net increase of $3.5 million in personal income, sales, and business corporation taxes resulting from the new hires, as well as an increase of $13.67 million in Rhode Island's annual GDP once the new hires are in place.
The Qualified Jobs Tax Credit program has now helped 31 companies agree to relocate or expand in Rhode Island. The program is helping to generate more than 3,400 jobs and add nearly $500 million to Rhode Island's annual GDP.