Republicans Gather for 4th Debate Amid Volatile Polls, Tempers
VOA News
WASHINGTON—The top Republican presidential contenders hold their fourth debate Tuesday in Milwaukee, Wisconsin, amid shifting poll numbers and increasing attacks on each other. This debate will feature the top eight candidates based on a minimum standing of at least 2.5 percent in the latest polls.
New Jersey Governor Chris Christie and former Arkansas governor Mike Huckabee have been demoted to the so-called «undercard' debate», while Senator Lindsey Graham of South Carolina and former New York governor George Pataki failed to qualify for either debate.
Republican presidential candidate Ben Carson speaks to reporters during a news conference Nov. 6, 2015, in Palm Beach Gardens, Florida.
​ Carson under scrutiny
Tuesday's debate is sponsored by the Fox Business Network and will focus on the economy. But much of the spotlight is likely to be on the two top contenders at the moment, Donald Trump and Ben Carson. Carson has been on the defensive in recent days after numerous questions about incidents in his past including a claim that he once was offered a full scholarship to the U.S. Military Academy at West Point, New York.
Carson can expect more questions about his past during the debate, but it also appears he will be ready with some feisty comebacks. At a Friday news conference in Florida, Carson said he wanted the focus on unfair treatment by the media.» All of you guys trying to pile on is actually going to help me because when I go out to these book signings and I see these thousands of people they say, Do not let the media get you down.'»
Protesters opposed Republican presidential candidate Donald Trump demonstrate in front of NBC Studios Wednesday, Nov. 4. Trump hosted NBC's «Saturday Night Live" on Nov. 7.
​ Trump center-stage again 
Donald Trump was in the spotlight once again as he hosted NBC's «Saturday Night Live» even as anti-Trump protesters made their presence felt on the streets outside.Although one of the highest-rated SNL shows in recent years, a lot of critics thought the Trump-hosted show was dull.
The latest polls show Trump and Carson bunched at the top of the crowded Republican field with Florida Senator Marco Rubio and Texas Senator Ted Cruz are also picking up steam. Rubio was considered a winner in last month's Republican debate, though most of the candidates complained that the questions from the CNBC moderators were biased and unfair.
Republican presidential candidate, former Florida Gov. Jeb Bush, gestures as he speaks to supporters during a rally Nov. 2, 2015, in Tampa, Florida.
​
The Bush reboot
Tuesday's debate will also be a test for Jeb Bush, who has slipped in recent polls and remains focused on a reboot of his campaign, now running under the theme of «Jeb Can Fix It. «»I will not trade in an optimistic outlook to put on the cloak of an angry agitator and I will not make anyone feel small so I can fee big,» Bush said during his relaunch in Florida.
A new book about the candid opinions of his father, former President George H.W. Bush, has become a distraction and a reminder of the unpopular presidency of his brother, George W. Bush, said analyst Norm Ornstein of the American Enterprise Institute.
«[Jeb] Bush has the dilemma right now that he is trapped in a Bush body and simply cannot and will not gain the kind of distance from the policies of his brother and father that is required if you are going to get back to a dominant position,» Ornstein said.
FILE – Republican Senators Ted Cruz and Marco Rubio are seen in the House of Representatives Chamber of the US Capitol after Pope Francis' address Sept. 24, 2015.
​ Rubio and Cruz rising
Bush's slide in the polls has created an opening for other establishment contenders, according to Republican strategist Ford O'Connell.
«I think that Jeb Bush was the person they thought was mostly likely to do it," O'Connell said. "But now the jury is out on Jeb Bush and it is giving a real opportunity to Florida Senator Marco Rubio and Ohio Governor John Kasich.»
The success so far of Trump and Carson demonstrates the power of appeal of political outsiders. But there is doubt about how long they might survive once the primary and caucus voting begins on February 1 in Iowa.
«There is going to be a vehicle for all this anger, this disaffection that it is in a half, 60-percent of the Republican Party,» said independent analyst Charlie Cook, publisher of the Cook Political Report. «Could it be Carson or Trump?Yes it could.I tend to think that they are horses that are not going to make it all the way to the finish line and that somebody else will be the voice, the vehicle for that anger.»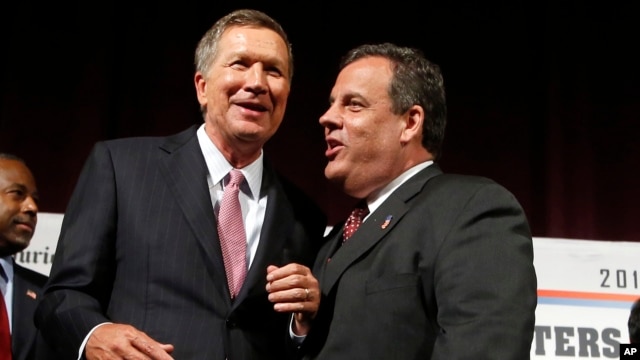 FILE – Republican presidential candidates, John Kasich and Chris Christie after an Aug. 3, 2015 forum in Manchester, N.H.
​ Battling for establishment support
There is also an intense battle for the support of mainstream or establishment Republicans, largely among Jeb Bush, Chris Christie and Ohio Governor John Kasich. «There will be a viable insider establishment candidate who can still win this nomination just based on long term and recent history of the Republican Party,» said American University presidential historian Allan Lichtman.»They tend to love these mavericks but they never nominate them.»
But the competition between the Republican outsider and establishment wing is resolved, it will be important for the party to come back together once the primaries are over and a nominee is chosen, said John Fortier of the Bipartisan Policy Center in Washington. «There is a divide.There is an outsider caucus and one that for Republicans to win, they will have to put that caucus or coalition back together.»
Please follow and like us: