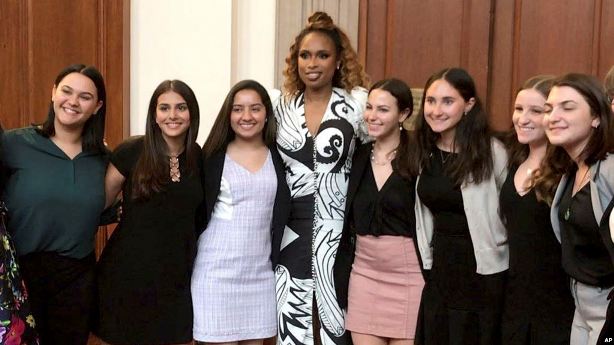 Pulitzer Board Honors Parkland Journalists
mayo 28, 2019
This image taken from video shows singer Jennifer Hudson posing with student journalists from Marjory Stoneman Douglas High School in Parkland, Fla., who were recognized at the 2019 Pulitzer Prize winners awards luncheon at Columbia University in New York, May 28, 2019.
VOA NEWS
Student journalists from Marjory Stoneman Douglas High School were honored by the Pulitzer Prize Board for their work memorializing 17 classmates and coaches killed in a shooting last year in Parkland, Florida.
Eight students and the faculty adviser of The Eagle Eye newspaper traveled to New York for the honorary luncheon.
Former member of the Eagle Eye staff, Nikhita Nookala, told VOA on Tuesday that it was «an amazing feeling» to have the newspaper recognized «by one of the biggest authorities in journalism as a valid contribution to the coverage of an event that affected us all so much.»
Nookala, who graduated from the high school last year, said, «I think the only thing that's disappointing is that a lot of our staff that worked on the issues in question are no longer at the school to see it because of university!»
Sarah Lerner, an English and journalism teacher who accompanied the students, tweeted she was «beyond honored to be in attendance at @PulitzerPrizes awardluncheon.»View image on Twitter
The Eagle Eye staff submitted their package of obituaries to the public service category of the annual Pulitzer Prize awards that recognize exceptional work by U.S. newspapers, magazines and news sites.
The student newspaper did not win, but during the April announcement of the awards, Pulitzer Prize Administrator Dana Canedy spoke of her «sincere admiration» for their entry and said they «give us all hope for the future of journalism.»
«The Eagle Eye's submission stated that the student reporters and editors had to 'put aside our grief and recognize our roles as both survivors, journalists and loved ones of the deceased,'» Canedy said.»These budding journalists remind us of the media's unwavering commitment to bearing witness — even in the most wrenching of circumstances — in service to a nation whose very existence depends on a free and dedicated press.»
Julie Edwards, editor of the South Florida Sun Sentinel, which won the Pulitzer in the public service category for its coverage of the shooting, told the Parkland students, «We did this for you guys.»