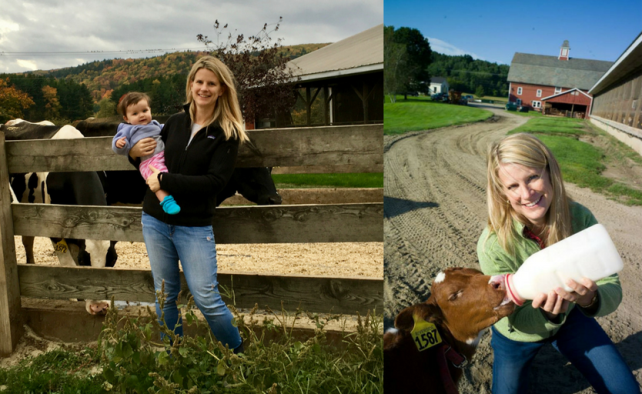 New England dairy farmers provided $85,000 in grants to support school breakfast in the 2017-2018 school year
marzo 4, 2019
Student breakfast participation linked to improved behavior and academic performance.
*Boston, MA (March 4, 2019)—* During the 2017-2018 school year, dairy farmers in Massachusetts, Rhode Island, Connecticut, New Hampshire, and Vermont provided a little over $85,000 in funding to eligible schools who also participate in the National School Meals program to implement or enhance their breakfast programs. Schools used the funds to purchase equipment such as mobile breakfast carts, refrigerators, insulated cooler bags, smoothie machines, and more to increase access and offerings for students.
Studies show that students who eat school breakfast are more likely to reach higher levels of achievement in reading and math, score higher on standardized tests, have better concentration and memory, be more alert, and maintain a healthy weight. A recent school breakfast report released by the Food Research & Action Center also shows the moving breakfast into classrooms, referred to as the breakfast after the bell model, can increase student participation rates.
Breakfast after the bell programs like grab-n-go breakfast, breakfast in the classroom, and second chance breakfast provide a flexible option for busy students who don't have time or are unable to eat at home or in the cafeteria. These programs provide another opportunity to have a well-balanced breakfast from offerings of fruits, vegetables, whole grains, and low-fat dairy. Breakfast offered in the classroom is associated with better overall diet quality in students.
Dairy farmers in each of these New England states also visited with schools, or hosted schools on their farms for tours. Nowadays fewer and fewer people are connected to their local farms. Revitalizing these connections can help to drive home the significance of local agriculture and connect students of all ages to where food comes from.
Thompson Public Schools in Connecticut saw an increase in breakfast participation in all three of the schools in which they implemented breakfast after the bell programs in the 2017-2018 school year, using grants they received from New England Dairy & Food Council that were funded by dairy farmers. At Mary Fischer Elementary School in particular, breakfast participation increased by an average of 120 meals per day.
"Students are genuinely excited to come for breakfast now. We've seen a noticeable improvement in students' morale in the morning." Said Lisa Durand, Food Service Director for Thompson Public Schools.
Salemwood School in Malden received funding in the 2015-2016 school year to start a grab-n-go breakfast program. By the following year, they estimated that they had served an additional 46,000 breakfasts due to the program.
Since 2009, dairy farmers throughout New England have been supporting school wellness through initiatives that focus on increasing access to nutritious foods and physical activity. They've done this through their support for the Fuel Up to Play 60 program, which is implemented regionally by New England Dairy & Food Council.