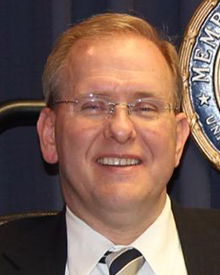 Langevin, McMorris Rodgers Lead Bipartisan Bill to Strengthen Support for Family Caregivers
abril 2, 2019
Legislation would authorize $200 million over the next five years for the Lifespan Respite Care Program
WASHINGTON – U.S. Representatives Jim Langevin (D-RI) and Cathy McMorris Rodgers (R-WA) today introduced the Lifespan Respite Care Reauthorization Act of 2019, a bipartisan bill that would authorize $200 million in funding over the next five years to continue building coordinated respite services for families caring for loved ones with chronic, disabling conditions. Langevin originally authored and introduced the Lifespan Respite Care Act in 2002, and he served as the lead Democratic sponsor when it was signed into law in 2006.
"Caring for a loved one in need can be incredibly rewarding, but it can also take a physical, emotional, and financial toll on families," said Congressman Langevin. "Respite care provides temporary relief from the full time task of family caregiving and is one of the support services most frequently requested by family caregivers. By expanding access to respite services, this legislation will improve caregiver health and reduce the financial strain on families, our health care system, and the taxpayer."
"Respite care is an essential part of a comprehensive health care approach, and this legislation will support respite care agencies by providing funding for state grants to improve and expand these services in our communities, improve coordination, and streamline access to programs," said Congresswoman McMorris Rodgers. "I'm proud to join in introducing the Lifespan Respite Care Act of 2019 to help fill the gaps in respite care in Eastern Washington and all across the country."
Senator Susan Collins (R-ME), chair of the Senate Select Committee on Aging and a member of the Committee on Health, today also introduced companion legislation in the Senate with Senator Tammy Baldwin (D-WI).
"Every day, an estimated 45 million family caregivers attend to loved ones who are experiencing chronic, disabling health conditions. Caregivers help their loved ones remain at home, often delaying the need for nursing home or foster care placements. This compassionate task, however, can take a toll. Often due to a lack of support, caregivers experience higher mortality rates and are more likely to acquire acute and chronic health conditions," said Senator Collins. "Respite care is essential to caregivers as it helps to reduce mental stress and physical health issues they may experience. Our bipartisan bill would give family caregivers and their loved ones the support they need by ensuring that quality respite is available and accessible."
"Every day, family caregivers in Wisconsin and across our country tend to the needs of their loved ones," said Senator Baldwin. "The work of caregivers can also be emotionally and physically challenging so we need to do more to support them. This legislation will help ensure continued funding for the Lifespan Respite Care Program so that our family caregivers can access the support and relief they need."
Over 43 million family caregivers nationwide provide long-term care to their aging or disabled family members. Respite care provides short-term relief to these family caregivers, preventing exhaustion and allowing loved ones to continue to live in the comfort of their own homes. The Lifespan Respite Care Program is the only federal effort that supports respite care regardless of the age or type of disability of the family member in need. It has already provided grants to 37 states and the District of Columbia to help coordinate federal, state and local resources and streamline the delivery of planned and emergency respite services, provide services for unserved groups, recruit and train respite workers, and train caregivers themselves.
"The ARCH National Respite Coalition applauds Representatives Langevin and McMorris Rodgers and Senators Collins and Baldwin for championing respite for family caregivers by introducing the reauthorization of the Lifespan Respite Care Act, said Jill Kagan, director of the ARCH National Respite Coalition. "Respite has been shown to help alleviate caregiving stress, improve family wellbeing, and avoid or delay more costly out-of-home placements. The Lifespan Respite Care Program has helped advance respite availability to thousands of family caregivers across the country who otherwise would not have access to this vital support service. We pledge to work with Representatives Langevin and McMorris Rodgers and Senators Collins and Baldwin to make Lifespan Respite available in every state."
The Lifespan Respite Care Reauthorization Act of 2019 authorizes program funding for the next 5 years:$20,000,000 for fiscal year 2020; $30,000,000 for fiscal year 2021; $40,000,000 for fiscal year 2022; $50,000,000 for fiscal year 2023; and $60,000,000 for fiscal year 2024.

The Lifespan Respite Care Reauthorization Act of 2019 is supported by the following organizations: AARP, Alzheimer's Association, Alzheimer's Foundation of America, Alzheimer's Impact Movement, American Association of Caregiving Youth, American Association on Intellectual and Developmental Disabilities, American Dance Therapy Association, American Music Therapy Association, The Arc, Association of University Centers on Disabilities, Autism Society of America, Brain Injury Association of America, Caregiver Action Network, Caring Across Generations, Christopher & Dana Reeve Foundation, Easterseals, Elizabeth Dole Foundation, Epilepsy Foundation, Family Caregiver Alliance, National Center on Caregiving, Family Voices, Generations United, The Jewish Federations of North America, Justice in Aging, LeadingAge, Lupus Foundation of America, The Michael J. Fox Foundation for Parkinson's Research, National Alliance for Caregiving, National Alliance of Children's Trusts and Prevention Funds, National Association for Home Care and Hospice, National Association of Area Agencies on Aging, National Association of Councils on Developmental Disabilities, National Association of Social Workers, National Association of State Directors of Developmental Disabilities Services, National Association of State Head Injury Administrators, National Association of States United for Aging and Disabilities, National Down Syndrome Congress, National Down Syndrome Society, National Hospice and Palliative Care Organization, National Military Family Association, National Multiple Sclerosis Society, National Respite Coalition, Paralyzed Veterans of America, Program to Improve Eldercare – Altarum, Rosalynn Carter Institute for Caregiving, Sibling Leadership Network, TASH, United Spinal Association, and Well Spouse Association.