Kerry: Iraq Briefed on US Plan to Strike at Heart of IS
diciembre 2, 2015
U.S. Secretary of State John Kerry said Wednesday the Iraqi government was briefed in advance of Defense Secretary Ash Carter's announcement that teams of U.S. special operators could be in Iraq in a matter of weeks.
The "specialized expeditionary targeting force» will consist of approximately 200 special forces personnel, according to officials familiar with the plans aimed at striking the brain trust and nervous system of the Islamic State terror group.
Iraqi Prime Minister Haider al-Abadi praised his forces in a statement Tuesday, and said that while Iraq welcomes support from its international partners, it does not need foreign combat troops on the ground.
Abadi said that kind of support and special operations must be done with the government's approval and in coordination with Iraqi forces.
Full consent
Speaking in Brussels Wednesday, Kerry expressed strong support for Abadi and said the U.S. plans are being carried out with the Iraqi government's full consent.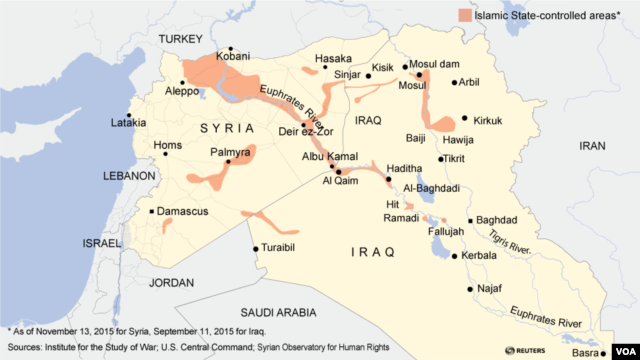 «We will continue to work very, very closely with our Iraqi partners on exactly who would be deployed, where they would be deployed, what kinds of missions people would undertake, how they would support Iraqi efforts to degrade and destroy ISIL,» Kerry said, using an acronym for the Islamic State group.
He also reiterated the U.S. view that ending Syria's war is the most important step in defeating the militants and added that Russia could be an «extremely constructive player» in Syria.
The goal of sending the special forces to Iraq will be to take advantage of intelligence on short notice in order to "degrade key leadership and command and control elements of ISIL" in both Iraq and Syria, a U.S. official told VOA on condition of anonymity.
Secretary Carter first announced the deployment of the new force Tuesday during testimony before the House Armed Services Committee, promising to strike fear across Islamic State's ranks.
«You don't know at night who's going to be coming through the window, and that's the sensation we want all of ISIL's leadership and followers to have,» he told lawmakers.
Raids, momentum
«These special operators will over time be able to conduct raids, free hostages, gather intelligence and capture ISIL leaders,» Carter said. "That creates a virtuous cycle of better intelligence, which generates more targets, more raids and more momentum.»
Carter said the "specialized expeditionary targeting force» will work with both Iraqi and Kurdish peshmerga forces in Iraq, and be capable of unilateral action in Syria.
U.S. Defense Secretary Ash Carter, left, and Joint Chiefs Chairman Marine Corps Gen. Joseph Dunford Jr. testify before a House Armed Services Committee hearing on «U.S. Strategy for Syria and Iraq,» in Washington, Dec. 1, 2015.
The move builds on plans announced in October to send fewer than 50 special operations forces to assist opposition groups battling IS. Those forces are still preparing to begin operations, but U.S. officials said the time was right to take the next step.
Used previously
The use of what is now being called an ETF [expeditionary targeting force] is not without precedence in the U.S. effort against IS.
Carter said the new force would be capable of actions like the raid earlier this year in Syria that killed Abu Sayyaf, a top Islamic State finance official, led to the capture of his wife and allowed U.S. forces to recover what was described as «a substantial amount of intelligence.»
There also was a joint raid raid carried out by U.S. Forces and Iraqi peshmerga in October that resulted in the death of a U.S. service member.
"ISIL has been cut off strategically in a number of key areas," a senior administration official told VOA. "This is a good point in the campaign to bring in American special operators who really are force multipliers."
The official said progress on the ground by Iraqi and Kurdish forces, as well as by U.S.-backed opposition fighters in Syria, has also given intelligence officials a chance to learn more about the terror group and its vulnerabilities.
Still, U.S. officials caution the move to insert more special operators is not an indication that Islamic State is at any sort of tipping point, ready to fall.
Despite the success of local forces on the ground in Iraq and Syria, and a U.S.-led air campaign that has killed an estimated 23,000 Islamic State militants, the terror group has been resilient.
«We have not contained ISIL," the top U.S. military official told members of the House Armed Services committee Tuesday.
"Strategically they have spread since 2010,» said Chairman of the Joint Chiefs of Staff, Gen. Joseph Dunford, calling Islamic State the "ultimate opportunists."
Question effect of US forces
The ability of Islamic State to survive concerns critics and analysts, who wonder whether the additional U.S. special forces will do much to further the terror group's demise.
FILE – Kurdish troops known as peshmerga deploy during a military operation to regain control of some villages from Islamic State group fighters south of oil-rich city of Kirkuk, 290 kilometers (180 miles) north of Baghdad, Iraq, Aug. 26, 2015.
"It's a capability we should have had in place a year and a half ago," said Michael Pregent, a former intelligence officer who was embedded with peshmerga forces in Mosul, Iraq, from 2005 to 2006.
Now an adjunct fellow at the Hudson Institute, Pregent said even if the new U.S. force is successful in eliminating high-value targets, it may not be enough.
"It took 10 to 15 raids a night for five years with 130,000 troops on the ground and 90,000 Sunnis in a U.S.-led security force to decimate al-Qaida [in Iraq]," he said. "This is one-twentieth of that."
See potential
Others see the potential for at least a "marginal" increase in the effectiveness of U.S. operations, pointing to the capability for better intelligence and more precise targeting.
But Christopher Harmer with the Institute for the Study of War says to truly put a dent in Islamic State operations, more special forces and resources will have to be sent to the region.
"You need several thousand people," said Harmer, a former U.S. Navy commander.
"You've got to have the special operators at the tip of the spear. You've got to have the intel resources to guide them to the target. You've got to have a significant quick strike reaction capability," he said.
The U.S. has about 3,500 troops at six locations in Iraq to support Iraqi forces, with tens of thousands of additional U.S. forces stationed across the Middle East.