J.D. leads the way as Red Sox trounce Angels
agosto 10, 2019
By Jessica Camerato, reporter/editor for MLB.com based in Boston
BOSTON — 1,495 feet.
That's the combined distance J.D. Martinez covered with his two home runs and two doubles in the Red Sox's dominating 16-4 win over the Angels on Friday night at Fenway Park.
The designated hitter recorded the 14th multi-home run game of his career, and the fourth of this season. He last did it on June 14 at Baltimore.
"When he gets locked in like this, it's fun to watch," Red Sox manager Alex Cora said.
With a 4-for-5 evening (including four RBIs and four runs scored), Martinez extended his hitting streak to eight games, during which he is batting .517. Over the last 20 contests, he is hitting .425/.489/.838 with 22 RBIs, 18 runs, eight home runs and seven doubles.
"He's been more disciplined, not chasing [inside pitches] that much. I think today was the first day he actually hit the one in the air with authority the other way," Cora said. "We've been talking about him grinding and look at the numbers. If that's not grinding, I don't know what grinding is."
Martinez began his night with a double off Angels starter Jaime Barria in his first at-bat. He was only getting started. Martinez rocked a two-run shot to right-center field in the fourth frame, and nearly did it again in the sixth.
His double off Justin Anderson to deep right traveled 362 feet, far enough to look as though it had dropped into the bullpen. After rounding second, he had to dive back to the bag to avoid being thrown out.
"Panic." Martinez said with a smile of what he was thinking during the close call. "I round second and [third base coach Carlos Febles] is looking at me and he's yelling, 'No no no!' He had his hands up, and I'm like, 'What happened?' I turned back and the ball's being thrown in.
"I go, 'No way.' I try to dive back and I see him and I'm like, 'How am I going to get out of this thing?' I kind of just deked him with my right hand and then put my left hand in there. Thank god. I was laughing. I feel like the whole stadium was laughing."
That play began a five-run sixth inning in which every Red Sox player batted and Boston took over for good, on the way to its third win in four games.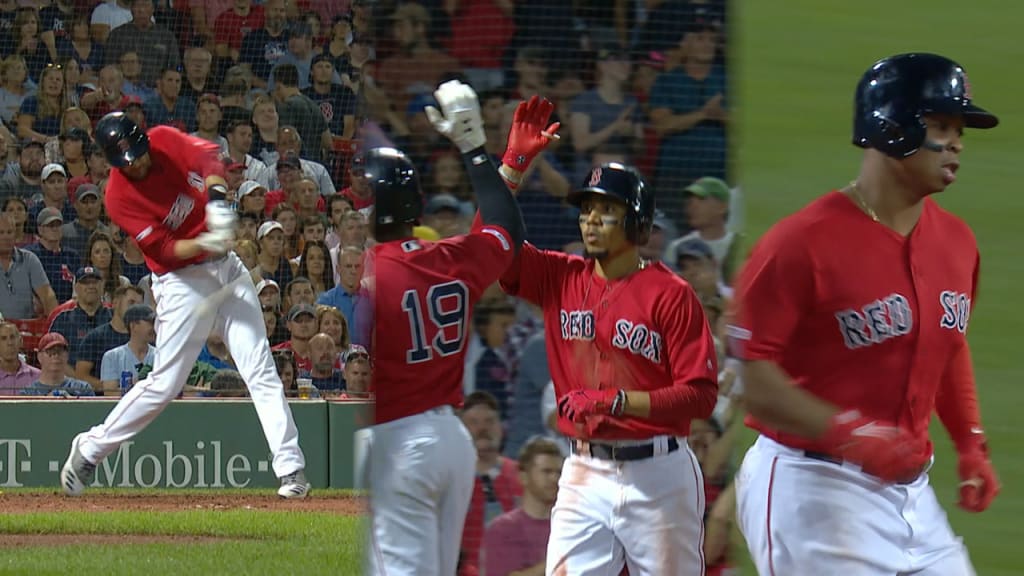 Martinez's hitting showcase continued in the seventh when he hit his second homer off Trevor Cahill, again to right-center field, for his 27th long ball of the season. He capped off his night reaching first on an Angels throwing error in the eighth. Martinez went on to score Boston's 14th run off a Christian Vázquez fly ball.
"He plays hard," Cora said. "Not too many guys will run out a ball like he did in his last at-bat when the game's one-sided."
Martinez improved his batting average to .310 with 26 doubles and 27 home runs — standout stats in his ninth season. He will pay attention to the numbers in October, he said. Each day until then, his attention is fully on that game's pitcher.
"If I come back tomorrow and go 0-for-4 with four strikeouts, you guys are going to be right here and say, 'Hey J.D., what happened today?'" Martinez said. "That's just the way the business is. Every day you've got to show up, and it's, 'What did you do today? It doesn't matter what you did yesterday' type deal. That's how I've got to treat it in a sense."
August 9 has been a good day for Martinez over his career. He has homered in four of his nine seasons on the date: 2018 against Toronto, '16 against Seattle and '11 as a rookie against Arizona. With his "tunnel vision" mentality, don't expect him to focus on one day on the schedule more than the other. Every game is an opportunity to make an impact.
"He understands his craft," Cora said. "He works at it, and he's unstoppable."
Please follow and like us: