Iraqi Forces Raise Flag Over Ramadi Government Complex
diciembre 28, 2015
Last updated on: December 28, 2015
Military officials in Iraq say they have raised the national flag over the main government compound in Ramadi, seven months after Islamic State militants captured the capital of Anbar province.
Iraqi military leaders, however, conflict in their assessments of success in the western city. Brigadier General Yahya Rasool announced on state television Monday that Ramadi had been «liberated.» However, the head of military operations in Anbar, General Ismail al-Mahlawi, said parts of the city remain under IS control.
Backed by U.S.-led coalition airstrikes, Iraqi forces pushed into the city last week.
There have been no reliable casualty reports, and it remains unclear how many civilians are in central Ramadi, 100 kilometers west of Baghdad. An Iraqi spokesman has said most residents had taken shelter at a nearby hospital.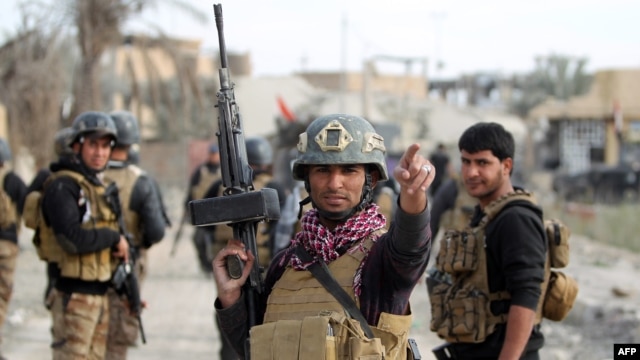 Members of Iraq's elite counter-terrorism service secure the central Ramadi's Hoz neighborhood after Islamic State jihadists abandon their last stronghold in the Anbar province capital, Dec. 27, 2015.
After months of preparation, Iraqi forces backed by U.S.-led coalition airstrikes pushed into Ramadi's center last week in a concerted effort to recapture the city.
The U.S. military said it carried out at least 29 airstrikes on IS targets in the past week; three airstrikes hit near Ramadi from Sunday into Monday, wounding 12 IS fighters.
Col. Steve Warren, U.S. spokesman for the anti-IS military operation, said that since May, the coalition had launched 630 airstrikes in and around Ramadi and trained some of the Iraqi forces that took the city back.
Video of Ramadi's city center and other nearby districts showed widespread destruction, and many neighborhoods appeared to be in ruins.
One military commander told state TV that IS militants had booby-trapped many buildings and attacked his men with car bombs.
Gen. Abdel Ghani Al Assadi says that his men made sacrifices and many gave up their lives in the bitter battle against Islamic State, which hit them with car bombs, mines and by rigging buildings.
A member of the Iraqi security forces holds an Iraqi flag near the Anbar province police headquarters building in Ramadi, Iraq, Dec. 28, 2015.
James Denselow of the London-based Foreign Policy Center tells VOA that the success of the Ramadi operation will be measured by whether Sunni residents return to the city:
"Ultimately, for Sunni residents to come back, they need to feel that there is a force there that will protect their interests. (That) there's no victor's justice. … All these other things we've seen in the past in other liberated cities, and there are a huge number of different armed groups operating under different flags in Iraq at the moment, and that's not good for a united Iraq," he said.
Iraqi commanders now are setting their sights on retaking Iraq's second largest city of Mosul from IS.
But Denselow warns that the fact that "a relatively small number of ISIS fighters have been able to fend off a much larger force for so long with such a large level of destruction is a worrying portent of things to come."
Ed Yeranian contributed to this report from Cairo