Initiative Looks Beyond Usual Destinations for Middle East Refugees
octubre 1, 2016
A popular refugee destination it is not, but South America may soon host a fresh wave of refugees under a U.S.-sponsored plan aimed at getting more countries to share in sheltering the world's growing migrant population.
In recent years, Argentina, Brazil, Chile, Colombia and Uruguay have all received refugees from Syria, but the numbers have been limited — a few dozen in the case of Uruguay to a couple thousand in Brazil — and the refugees have been admitted on an ad hoc basis, not through an established resettlement program.
Now, with Western nations struggling to find homes for millions of refugees, the U.S., Britain and Sweden have funded the Emergency Resettlement Country Joint Support Mechanism, with the aim of encouraging countries in South America and elsewhere to take in larger numbers of asylum seekers from the Middle East, Africa and Asia.
«I think this is a very good innovation here, something brand-new, and it could play a major role [in resettling refugees],» said William Lacy Swing, director general of the International Organization for Migration (IOM).
The Geneva-based IOM and the U.N. refugee agency will jointly run the program, which has an initial goal of resettling 30,000 refugees over the next three years.
Enough money to get started
In addition to $11 million provided by the U.S., the program has received $3.5 million from Britain. But the largest contribution, $17.5 million, came from Sweden, which last year accepted more than 160,000 refugees, roughly 2 percent of its population.
Luca Dall'Oglio, IOM's chief of mission in Washington, said other wealthy nations also might also contribute to the fund, but with $32 million on hand, the program has enough money to get started and resettle 10,000 refugees over the next year.
The goal of resettling 30,000 refugees over the three years «is a planning figure,» Dall'Oglio said in an interview. «It could go higher or lower depending on the response from both the donor countries as well as the countries that receive refugees.»
Dall'Oglio would not say what countries have joined the program. «At this time, all we can say is that certain countries in South America have expressed interest in the program, most notably Chile. Others in the region may also benefit from it once it is up and running.»
Chile last year announced plans to take in 100 Syrian refugee families, while Argentina has offered to admit 3,000 asylum seekers.
«We're certainly looking at South America, but not only South America,» Dall'Oglio said.
Noting that several hundred Syrian refugees have in recent years fled to Senegal, where «they're doing reasonably well,» he added that the West African nation could be a candidate for the program, though it has yet to express an interest in signing on.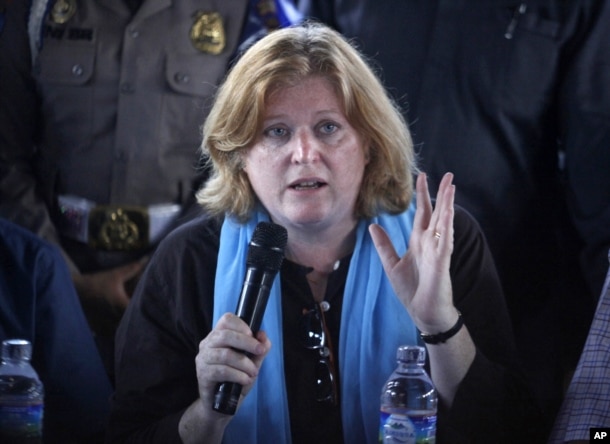 Helping countries help refugees
Countries joining the program need financial and technical assistance, said Anne Richard, U.S. assistant secretary of state for population, refugees and migration.
«And so this fund was set up to help cover the cost of screening refugees, and the transportation to get the refugees to these new resettlement countries,» Richard said.
The U.N. puts the number of refugees in the world at 21.3 million, a record brought about by the five-year-old conflict in Syria.
With the refugee crisis crying out for more resources and creative problem solving, the new program represents an innovative way of helping asylum seekers, said Robert McKenzie of the Brookings Institution, a Washington policy research group.
«The idea of trying to focus international attention on this crisis, to try to galvanize international support, makes sense,» McKenzie said.
Taking a chance on S. America
The overwhelming majority of the world's refugees live in countries bordering their native lands, with nearly 5 million Syrian refugees encamped in Turkey, Lebanon and Jordan.
With options for legal migration to Europe and the U.S. limited, and the voyage across the Mediterranean increasingly perilous, the prospect of receiving asylum in South America might appeal to refugees with no hopes of integrating or returning home.
«What is the alternative?» McKenzie said. «To leave a refugee in grinding poverty in Lebanon or Jordan or to try to resettle that individual and his or her family to a country in South America?»
Dall'Oglio said countries taking refugees will be expected to make «a very important contribution in facilitating local integration.» But there are challenges to integration. Both Argentina and Brazil are in the midst of severe economic downturns.
Last September, five families of Syrian refugees granted asylum in Uruguay demanded to leave the country, disappointed by what they said was the Uruguayan government's failed promises to provide jobs.
Still, McKenzie said most refugees can adapt if given the opportunity.
«They don't need a handout,» McKenzie said. «They just need an opportunity to be able to stand on their two feet.»
Please follow and like us: