Geneva Possibly Re-emerging as Global 'Peace Capital'
diciembre 28, 2015
GENEVA—
The Swiss city of Geneva may be on course to re-emerge as the "peace capital" of the world next year, a position it held in the final two decades of the last century.Several peace activities planned for 2015 at U.N. European headquarters in Geneva.
In the 1980s, Geneva was abuzz with U.S.-Soviet bilateral nuclear arms control talks. The city hosted U.S. President Ronald Reagan and his Soviet counterpart, Mikhail Gorbachev. Other peace activities included efforts to bring long-running wars in Afghanistan and Lebanon to an end.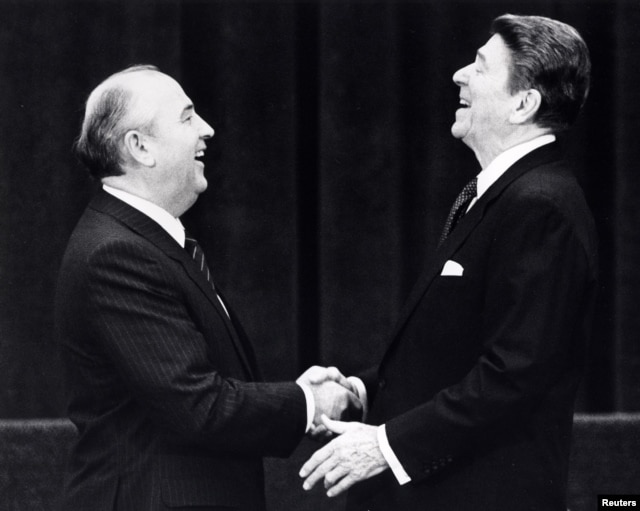 This photo shows former U.S. President Ronald Reagan at his first meeting with former Soviet leader Mikhail Gorbachev in Geneva, Switzerland, 1985.
The collapse of the Soviet Union in 1989 hastened the breakup of the former Republic of Yugoslavia and triggered the start of the Balkan wars. U.N.-mediated peace talks aimed at resolving the wars became an ongoing feature throughout the 1990s.
The director-general of the U.N. office in Geneva, Michael Moller, does not think those days are likely to return. But he believes Geneva and the United Nations will play an increasingly prominent role as a center for peace in the coming year.
Yemen, Syrian talks
Moller says another round of peace talks on Yemen will begin January 14. He says this will be followed by Syrian peace negotiations toward the end of January.
In the meantime, Moller says U.N. Syria Envoy Staffan de Mistura is traveling widely and establishing contact with the relevant parties.
"Everybody is on board, everybody, almost everybody wants these talks to be successful so that we can finally get a political solution to this really unacceptable problem," he said.
United Nations Special Envoy for Syria, Staffan de Mistura leaves after a news conference on the latest developments in Syria at the United Nations European headquarters in Geneva, Switzerland, October 12, 2015.
The United Nations hosted two rounds of Syrian peace talks in 2014. Both ended in failure. Last week the Security Council approved a diplomatic road map, making it possible for talks to resume.
Hub for peace negotiation
Moller says Geneva and the United Nations continue to be the hub for peace negotiations and conflict resolution.
"As the world continues to be fragmented, Geneva becomes more and more a place of choice, because of its neutrality, because of its reputation as a place where you can do business of peace without other agendas interfering,» he said.
Moller notes the United Nations this year hosted around 10,000 meetings and conferences. They included four mediation processes and multiple rounds of negotiations at U.N. headquarters, and other venues in Geneva and Switzerland.