FRANCISCA VALENZUELA celebrates a successful 2022 with a show at the MOVISTAR ARENA and a collaboration with LOS AUTÉNTICOS DECADENTES
FRANCISCA VALENZUELA
CELEBRATES A SUCCESSFUL 2022 WITH A SHOW AT THE MOVISTAR ARENA AND A COLLABORATION WITH
LOS AUTÉNTICOS DECADENTES
Following an unprecedented performance at the Movistar Arena in Santiago, Francisca Valenzuela welcomes the end of a successful year alongside Los Auténticos Decadentes with a rendition of «Salú».
(Video and audio download available upon request.)
Photo credit: FraFractal
The Chilean singer-songwriter, producer, musician,
and activist, has recently delivered a stirring performance
at the Musa Awards in Chile.
«Vida Tan Bonita», her latest album release,
has been recognized by Rolling Stone magazine
… and one of the «22 Greatest Spanish Language Albums»
In addition to an extensive series of successful dates across the United States, Mexico, Colombia, Argentina and Chile, these past months, including an outstanding performance at the latest edition of Rock al Parque in Bogota, on November 25, Chile's Movistar Arena in Santiago took on multiple colors to welcome Francisca Valenzuela, who debuted her solo show live on stage as part of her Vida Tan Bonita Tour.
For nearly two and a half hours, along with a crowd of more than 10 thousand people, the artist celebrated music by performing songs from her first album, Muérdete la Lengua, to her latest hits, which are part of Vida Tan Bonita, released in May of this year. Along with her audience, Francisca also shared the stage with a group of very special guests. Nicole and Princesa Alba joined her to sing «Normal Mujer», from the album La Fortaleza (2020), while Noah Blanco performed «Insulto»; Francisca also performed «En Mi Memoria» alongside Dulce y Agraz and the Argentinian singer Abel Pintos showed up to perform a live version of «Abrazándonos» with the Chilean artist.  Among other things, there were not only singers on stage, but also a lot of dancers, in charge of the choreographer Brigitte Kattan who is in charge of choreography, also shared credits with Francisca in the artistic direction of the show.
Photo credit: FraFractal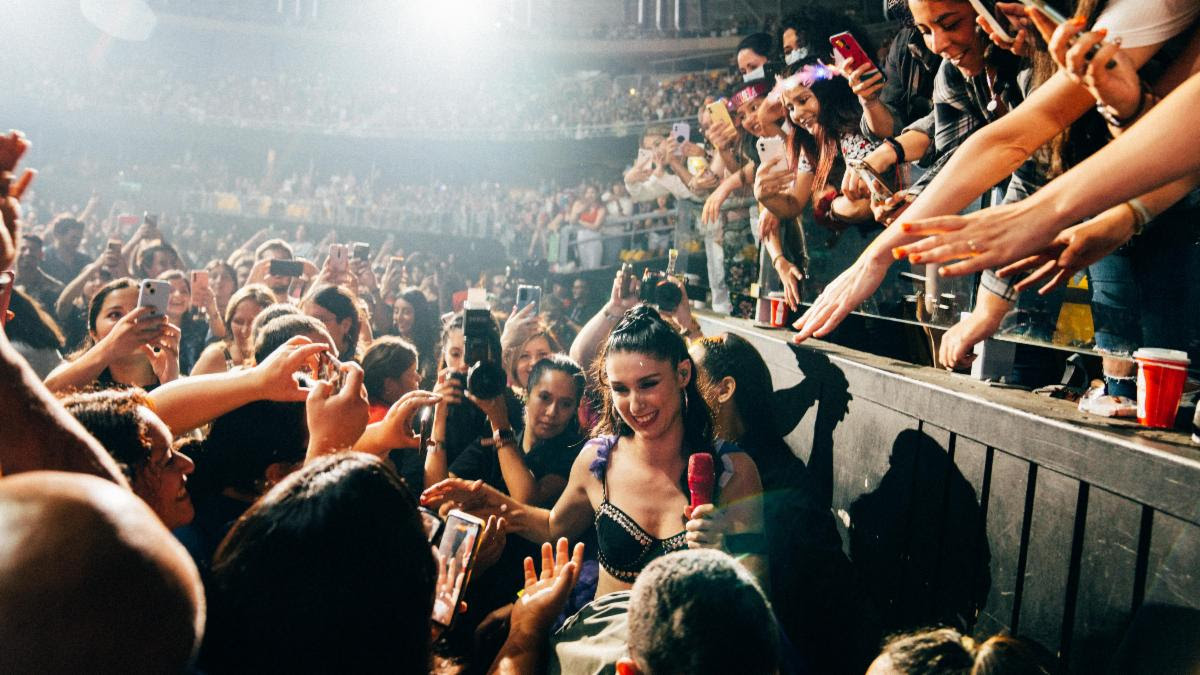 «I am beyond grateful to each and every one of you who worked with me in building this show to deliver this vision and journey of emotions, freedom and connection through music, art, fashion, movement and technology. Thank you so much for your commitment and for working so hard like we did! I love and admire your dedication, professionalism, talent and support. Band, dancers, crew, the whole team that allowed this dream to become reality. This may be my show, but we are many», said Francisca following her performance, in which she also counted on the musical direction of Roberto and Valentín Trujillo.
Photo credit: Rosario Oddo
However, this 2022 full of unforgettable moments and marvelous memories is not over for Francisca yet. Last weekend, the artist performed at the MUSA Awards ceremony where she was nominated to the Best Pop Artist, Album of the Year, Song of the Year and Collaboration of the Year categories. Today, she premieres a rendition of «Salú» alongside none other than Los Auténticos Decadentes. The legendary Argentine band's brass section and their signature ska sound go hand in hand with the original single's bubble gum pop. As Francisca would say, for better or for worse, this is the best way to wrap up the year and celebrate.
Note: The December 10 show at La Trastienda in Buenos Aires
has been rescheduled for March 3, 2023 due to a calendar conflict.
Tickets will remain valid for the new date.
More information at the event's box office.
LISTEN TO «SALÚ»
FT. LOS AUTENTICOS DECADENTES
For information, please contact Mirna Solorzano at:
FOLLOW FRANCISCA VALENZUELA ON
Please follow and like us: