First Women Graduate US Army Infantry Officer Course
octubre 26, 2016
Carla Babb
PENTAGON — U.S. Army women hit a milestone Wednesday, as the first women graduated from the military branch's Infantry Basic Officer Leader's Course.
Ten women received their Infantry blue chord at Fort Benning in the southern U.S. state of Georgia, officially making them infantry officers and giving them the ability to lead an Army platoon of infantry combat soldiers.
The Army's infantry is its main land combat force, responsible for defending the U.S. against ground threats, and capturing, destroying and repelling enemy ground forces.
Including the new graduates, there are 11 female infantry officers in the U.S. Army.
Capt. Kristen Griest became the first female infantry officer earlier this year after completing the Army's Maneuver Captains Career Course and transferring into the infantry.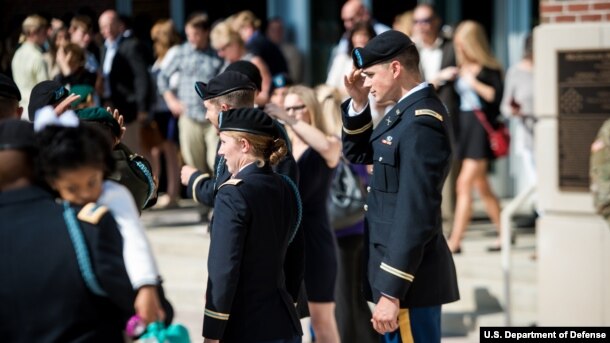 Ranger school
Fort Benning public affairs officer Chris Warner told VOA Wednesday that rather than leading a platoon right away, all 10 women graduates have decided to continue the "unspoken tradition" of moving from the Infantry Basic Officer Leader's course to Ranger school, the Army's elite combat training course.
Only three women — Griest, Capt. Shaye Haver and Maj. Lisa Jaster — have completed that elite course since it was opened up to women in 2015. Haver and Jaster are not infantry officers.
Officials anticipate a higher likelihood of success from Wednesday's female graduates, since the Infantry Basic Officer Leader's Course produces the highest success rates for Ranger School graduates.
The Infantry Basic Officer Leader's course and the Armor Basic Officer Leader's course were not open to women until this year. The Army is currently training 15 women at the Armor Basic Officer Leader's Course at Fort Benning, which will be completed at the end of November.
The Army's armor division carries out tank and forward reconnaissance operations on the battlefield.