FIFA Fires Secretary-General Jerome Valcke
enero 13, 2016
FIFA, the world governing body for football (soccer), has dismissed a top aide of disgraced president Sepp Blatter, who is implicated in a corruption scandal.
Jerome Valcke, former secretary-general of FIFA, had been suspended four months ago over allegations that he was involved in a black-market ticket scandal.
Last week FIFA's ethics committee charged him with accepting gifts, conflicts of interest, breaches of confidentiality, and failing to cooperate with investigators. Valcke has said he has done nothing wrong.
The man who has been acting secretary-general since Valcke's suspension, Markus Kattner, is expected to continue in that role until the election of a new FIFA president on February 26.
Valcke was fired from FIFA once before, in 2006, over his role in a sponsorship controversy. He was re-hired a year later and rose to one of the top administrative positions in the organization, overseeing the organization of the World Cup.
The dismissal comes less than a month after Blatter was banned from FIFA events for eight years over a $2 million payment to European football chief Michel Platini. Platini has also been given an eight-year ban from professional football.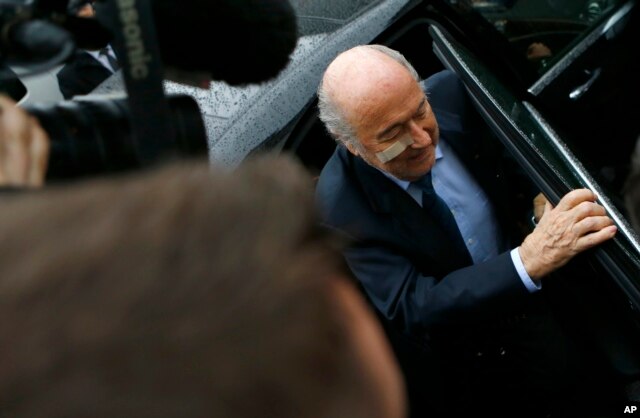 Suspended FIFA President Sepp Blatter arrives for a news conference in Zurich, Switzerland, Monday, Dec. 21, 2015.
FIFA has been plagued for years with allegations of corruption. The suspensions of Blatter and Platini followed an investigation by the U.S. Justice Department announced in May of last year.