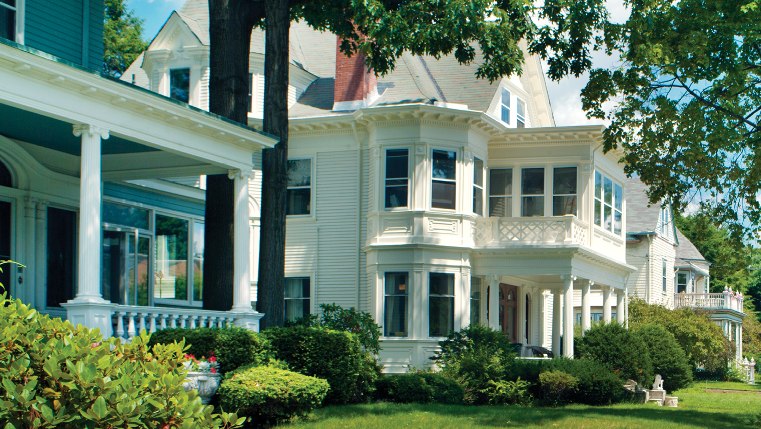 Festival of Historic Houses to Spotlight City's First Modern Middle-Class Enclave
Photo Credit to Warren Jagger
June event to focus on architecture of Paterson Park Neighborhood, home to H.P. Lovecraft
PROVIDENCE, RI (April 8, 2019) — The Providence Preservation Society (PPS) is pleased to present its 39th Festival of Historic Houses on June 15-16 in the East Side's Paterson Park Neighborhood. Guests taking part in this year's festival will be granted self-guided access to lovingly cared-for private homes, buildings and green spaces throughout the neighborhood.
Located in the Blackstone Park Historic District, Paterson Park boasts homes from the turn of the 20th century and stands as one of the city's first neighborhoods to extend the conveniences of modern infrastructure and utilities to the homes of physicians, insurance agents, lawyers, jewelers, professors and more. Famed Providence author H.P. Lovecraft also called it home for the earlier part of his life. The turn of the 20th century brought with it a nationwide appreciation for city planning and the development of public parks and recreational facilities, and these shifts are reflected in the neighborhood's development. Residents could enjoy access to Blackstone Park, which was undergoing expansion, as well as the then-undeveloped shoreline of the Seekonk River. Several schools — including the Lincoln and Wheeler schools — built new buildings in the area, and a dramatic expansion of streetcar and rail service helped residents reach nearby communities and Downtown.
This year's festival kicks off with a preview party on the evening of Thursday, June 13, at Lincoln School's 1870 Dwight House. Self-guided private house tours will take place Saturday, June 15, from 10 a.m. to 4 p.m., while Sunday, June 16, will feature guided walking tours of the neighborhood and its green spaces. Ticket sales will begin soon at providencehousetour.com.
PPS's Festival of Historic Houses is made possible in part by a grant from the Providence Tourism Council, as well as support from corporate and individual sponsors. For more information on sponsorship opportunities, please contact Angela Kondon at 401-831-7440.