Christmas Lights on the Heights
diciembre 23, 2015
DYKER HEIGHTS, NEW YORK—«Dyker Lights» is one of New York's most extravagant holiday attractions, and chances are you've never heard of it. Just minutes away from Manhattan's flashy skyline, a mostly Italian-American residential neighborhood in Brooklyn hosts over 100,000 visitors per year, in one of the wackiest holiday light displays in the country.
Dyker Heights, nicknamed the handsomest suburb of Greater New York, started out as a luxury housing development in 1895. The early 20th-century homes that line the avenues are still grand and imposing.
During the holiday season, however, the gracious old neighborhood takes on a more radical personality. At some homes, that means a slight uptick in electricity bills — upward of $3,000 to $4,000 per month.
And each year, the roughly six-square-block lighting display gets bigger and bigger.
«Every year, there's more and more people,» said local resident Philip D'Addona. «They even have tour buses coming here now, which is something I never thought I'd see in Brooklyn.»
Not to mention the occasional 14-passenger private SUV stretch limousine.
Joan Wildes, a tour guide for Prime Time Travel, says her guests are left in awe.
«They just don't expect it to be this beautiful," she said. "Everybody's always surprised and happy.»
Nearly everyone's favorite is a house with not one but two enormous nutcrackers.
«It's ridiculous,» said one local resident. «It's like infinite nutcrackers.»
The tradition began at Lucy Spata's house in the 1980s. What started as a simple display now features over 20,000 lights.
Suzanne Lechnos, who has been a regular viewer since the beginning, says Dyker Lights isn't what it used to be.
«It was colder, and there were only three lights, and now there are 130,000 lights. That's the difference,» Lechnos said.
Across the street from Lucy Spata's house are the Polizzottos, perhaps Spata's greatest competition.  Their house features a 15-foot tall, 800-pound robotic Santa Claus, along with his wooden toy soldiers, plus a couple of carousels for good measure.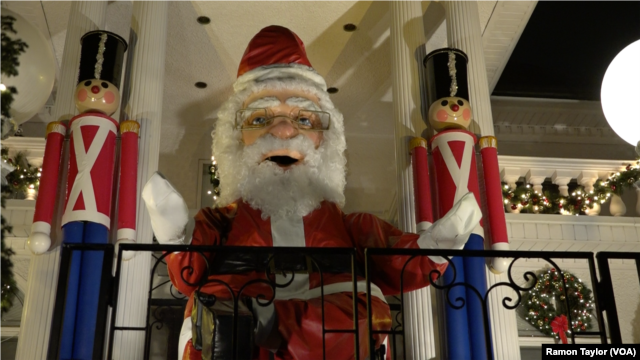 A 15-foot tall, 800-pound robotic Santa Claus, along with wooden toy soldiers, adorn the Polizzottos' home in Dyker Heights, New York.
«There was a great Christmas film that was shown all the time on television:Babes in Toyland," said Marc Sauvé, a tour guide for A Slice of Brooklyn, whose popular tour runs the slogan "Manhattan? FUHGETTABOUDIT!"
«And that's what he's done, folks, he's turned his front yard into Toyland,» Sauvé said.
Susan Balassiano, who has visited twice before, says every time is amazing.
«It's incredible," she said. "It's like, how did you do this? Where do you store these things?»
For the locals, it's a treasure, hidden deep away from the madness of Rockefeller Center. For the Barbour family, who live just on the other side of the borough, it's an opportunity to introduce the holiday favorite to the next generation: their 8-month-old daughter, Amatea.
«It's her first Christmas, so we really wanted to make it extra special this year,» said James Barbour, Amatea's father. «It's just really great to be here with some friends and to show her the pretty lights and the decorations … to give her her first taste of Christmas.»
Please follow and like us: