Candidates Battle Ahead of Key Votes in Florida, Ohio
Katherine Gypso
A surprising win by Democratic candidate Bernie Sanders in Michigan and a resurgence by Donald Trump in three of four Republican primaries marked the halfway point of the U.S. presidential campaign before key winner-take-all votes in five states next Tuesday.
On the Republican side, Senators Ted Cruz and Marco Rubio head into a Thursday debate searching for new ways to take voters away from front-runner Trump. Voters pushed back against the «Never Trump» effort led by 2012 Republican presidential nominee Mitt Romney, increasing Trump's delegate lead with wins in Michigan, Hawaii and Mississippi.
«By winning three out of four, I think Trump re-establishes some of the momentum he's lost over the last 10 days or so, but I think the numbers still show that Trump has a way to go,» said political analyst Stu Rothenberg.
Cruz will look to build momentum after an endorsement Wednesday from former Republican presidential candidate Carly Fiorina following his primary win with conservative voters in Idaho.
Former Republican presidential candidate Carly Fiorina speaks during a campaign rally for Republican presidential candidate, Sen. Ted Cruz, R-Texas, in Miami, Florida, March 9, 2016.
John Hudak, a senior fellow at the Brookings Institution, says Cruz continues to do well in smaller states and caucus votes that play to his campaign's strategy on the ground.
«But in the end of the day, the states that Cruz does well in and the states Trump does well in are very different states and that win goes to Trump,» Hudak said.
Rubio will look to recover from a week of trading insults with Trump that appears to have done little to change voters' minds. He has fallen behind Trump in polls in his home state of Florida, and must do well in next Tuesday's vote to remain in the race.
«His schoolyard theatrics from his last debate performance blew up in his face,» Hudak said, adding that Rubio will have to figure out a new strategy heading into Thursday's debate to get «the traction that he needs.»
Ohio Governor John Kasich has long touted the vote in his home state as the turning point for his campaign when voters there head to polls next Tuesday.
The Republican winner in Florida next week gets all of its 99 delegates, while Ohio's winner gets all of its 66. Most of the 69 delegates in Illinois go to the victor there.
Businessman Trump had about 450 delegates after Tuesday, compared to about 350 for second place Cruz of Texas. Their ultimate goal is to amass 1,237 to claim a majority and the Republican nomination.
A surprising win
The Democrats have been down to a two-candidate race for more than a month with former Secretary of State Hillary Clinton leading Senator Sanders of Vermont in the delegate count. She has a little more than half of the 2,383 needed to be the Democratic nominee, while Sanders is roughly one-quarter of the way there.
Democrats walk away from state contests with a proportion of delegates based on the vote, so to make up ground, Sanders not only needs to win states, but also win them by a large margin.
Supporters display a cardboard cutout of Democratic presidential candidate, Sen. Bernie Sanders, I-Vt., at a campaign rally in Miami, Florida, March 8, 2016.
«His victory doesn't change the math,» said analyst Rothenberg of Sanders' unexpected win in Michigan. «He would have to start to win primary after primary after primary to shake the superdelegates free, or at least so that his supporters question the fairness of superdelegates.»
While Sanders had the big win Tuesday night, Clinton ultimately netted more delegates and increased her lead heading into next Tuesday's vote.
She leads Sanders among likely Florida Democratic primary voters 62-32 percent, according to a Quinnipiac University poll released Wednesday. Her lead is especially strong among female voters, with 69 percent saying they would support her over Sanders' 24 percent.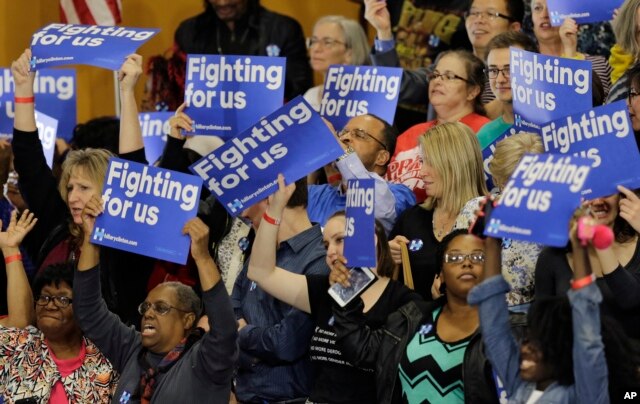 Supporters react to positive primary results for Democratic presidential candidate Hillary Clinton before a rally at Cuyahoga Community College in Cleveland, March 8, 2016.
Clinton's lead is smaller heading into the other major primary contest in Ohio, where she leads Sanders 52-43 percent among likely Democratic voters. The survey found small amounts of undecided voters in each state, suggesting those numbers would remain steady for the vote.
The party nominees will not be made official until the Republicans and Democrats hold their conventions in July. In many election years, the winner clinches the nomination before all the states have voted.
By this point in 2008, Republican John McCain had clinched his party's nomination. In 2000, victories in several March 15 primaries assured both Republican George W. Bush and Democrat Al Gore of their party nominations.
This year, the calendar after March 15 is fairly quiet with the rest of the month featuring only a few contests. Things become busy again with the April 19 primaries in delegate-rich New York, and again a week later as candidates compete in five states on the same day.