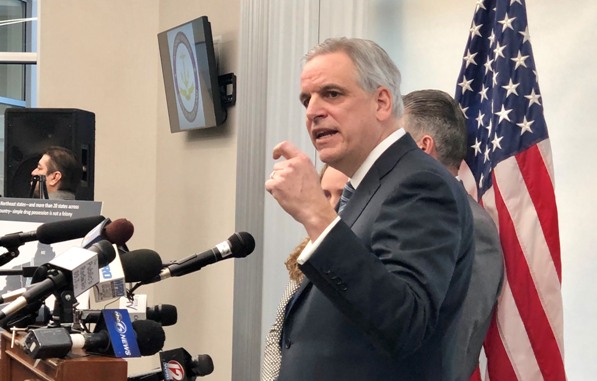 Attorney General Neronha proposes new bill that will recognize addiction as a public health crisis, prioritizing treatment over felony prosecution
febrero 25, 2019
New bill would reclassify Simple Drug Possession from a felony to a misdemeanor, recognizing Simple Drug Possession as non-felony conduct, reducing collateral consequences of drug addiction, and re-focusing resources on public safety priorities
Rhode Island Attorney General Peter F. Neronha today announced a proposed bill that would reclassify simple drug possession for personal use as a misdemeanor, bringing Rhode Island's statute in line with at least 20 other states.
Currently, simple possession for personal use—of 1 ounce or less of a controlled substance other than marijuana—is a felony under Rhode Island law, punishable by up to 3 years in prison and a fine of up to $5,000. Marijuana possession of similar amounts is a civil violation.
"It's time we recognize—like many other states have—that simple drug possession is not felony conduct," said Attorney General Neronha. "This common-sense reform will reduce the impact that drug addiction or a conviction can have on a Rhode Islander's ability to get a job, find housing, and turn his or her life around. And, importantly, we need to re-focus our law enforcement resources on stopping violent crime and drug dealers, instead of over-criminalizing users and those suffering from addiction."
"Many times simple possession charges are the result of another underlying issue, such as substance abuse or mental health," said Senate Majority Leader Michael J. McCaffrey (D-Dist. 29, Warwick). "Felony charges – let alone convictions – can often send an individual's life into a tailspin from which it is very difficult to recover. This reclassification legislation underscores our state's commitment to criminal justice reform by prioritizing public health and more efficiently using public safety resources."
This drug reclassification reform is expected to reduce Rhode Island's prison population and generate related savings for the state. Reclassification also promises a reduction in felony convictions, which carry significant collateral consequences and costs (both monetary and non-monetary) to Rhode Island communities.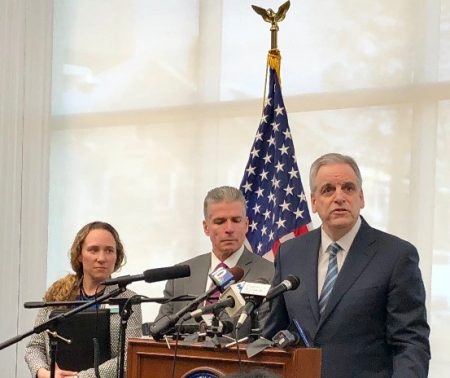 «Addiction is a chronic disease that can be treated with medicine and compassion, making remission and recovery possible," said Dr. Traci Green, Associate Professor of Emergency Medicine at Boston University and Brown University's Alpert School of Medicine."For far too long, we have criminalized disease, and research tells us that is ineffective and makes matters far worse for the patient, their family, and the community."
The proposed amendments would:
Change simple possession for personal use of a non-marijuana controlled substance in amounts 1 ounce or less from a felony to a misdemeanor.
Adjust the maximum fines and prison terms for violations to correspond with a misdemeanor offense.
Bring Rhode Island's law in line with simple possession laws in many states. More than 20 states, including Massachusetts, New York, Maine, and Vermont provide misdemeanor penalties for simple possession of drugs other than marijuana. Since 2014, California, Utah, Connecticut, Alaska, and Oklahoma have similarly reclassified drug possession offenses.
"Drug addiction is a medical condition and should be treated by medical professionals, not with incarceration," said Providence Commissioner of Public Safety Steven Pare. "Many people that suffer from drug addiction end up in jail with a felony conviction on their record that makes it extremely difficult to get a job, obtain housing, and become healthy again. This initiative will give a hand to help those people break the addiction cycle and become healthy and prosperous. I thank the RI Attorney General for his leadership in this proposed legislation and will work through the complexities to ensure we incarcerate drug dealers, not drug users."
"For many, the road to recovery is long and winding, with many starts and stops," said Attorney General Neronha. "Our collective energy should be focused on treatment, recovery, and opportunity, rather than on punishment."
Senate Majority Leader McCaffrey is a sponsor of the Drug Reclassification Bill.