At Least 5 Killed in Saudi Mosque Attack
enero 29, 2016
Last updated on: January 29, 2016 12:02 PM
CAIRO—
Attackers wearing suicide belts and carrying assault rifles targeted a Shi'ite mosque in eastern Saudi Arabia during Friday prayer services, killing five people and wounding 18 others. It was at least the fifth such attack in under a year.Amateur video shows panic among worshipers inside the Imam Reda Mosque as a bomb goes off, shattering windows, doors and ceiling tiles. Men can be heard shouting religious slogans as the lights go out and the sound of gunshots can be heard.
Eyewitness Mohammed al Ahmed told Saudi TV that worshipers inside the mosque blocked its doors after the attack began, but that one of the terrorists was able to enter after the blast.
He said there was an explosion several minutes after worshipers locked the doors and the lights went off and smoke filled the room, making it difficult to see. He added that a man with an assault rifle began shooting at random, but was wrestled to the ground and disarmed, after being hit with a chair.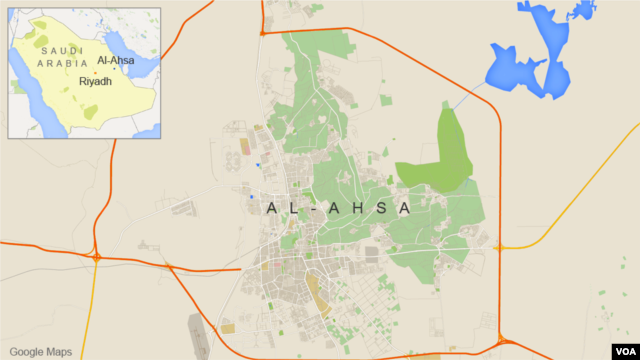 Security forces confront attackers
Saudi Security Ministry spokesman Gen. Mansour al Turki told journalists that security forces were able to prevent an even greater tragedy by confronting some of the attackers outside the mosque.
He says security forces traded fire with the attackers, who had assault rifles, outside the building, as they tried to go around them and enter the building.
It was not immediately clear if there were two or three gunmen. Al Arabiya TV reported that security forces arrested two men, while other media reported that one man was arrested and a second blew himself up.
Dubai-based Middle East analyst Theodore Karasik told VOA that the attack Friday in the Saudi Eastern Province "is reminiscent of previous Islamic State attacks targeting Shi'ites." He said that IS has been calling for more such attacks in recent weeks and that this "may be the start of a new wave" in Saudi Arabia. No group has claimed responsibility for the attack as yet.
At least four other such attacks on Shi'ite mosques have taken place inside Saudi Arabia during the past year. Saudi TV reported that security forces have been able to prevent more than a half dozen other attacks.