Assange's London Embassy Asylum Nearing Its End?
octubre 19, 2016
Luis Ramirez
LONDON — Ecuador's decision to temporarily cut Julian Assange's internet access is a sign that the WikiLeaks founder could be overstaying his welcome at the country's London embassy — or so some in Britain hope.
British officials have long expressed frustration at Ecuador's decision four years ago to let Assange take refuge in the embassy to escape arrest on sexual assault charges he faces in Sweden.
«I do hope that this is the precursor to them coming to their senses and finally forcing this man to face justice in the way that he should,» said Davis Lewin, a political analyst at London's Henry Jackson Society think tank.
The Quito government confirmed it cut Assange's internet access Tuesday to prevent him from meddling in the U.S. election, after WikiLeaks published documents and messages hacked from the presidential campaign of former U.S. Secretary of State Hillary Clinton.
Matter of principle
«The government of Ecuador respects the principle of nonintervention in the affairs of other countries, does not interfere in current elections, nor does it support any candidate in particular,» said a statement by the Ecuadoran Foreign Ministry.
The emails that WikiLeaks disclosed suggest that Clinton's campaign worked to discredit a woman who accused her husband, former President Bill Clinton, of rape.
WikiLeaks accused Clinton's successor at the State Department, John Kerry, of personally petitioning Ecuador to cut Assange's internet access. Officials in Washington have rejected the charge and strenuously denied that Kerry was involved in any way.
How Ecuador reached its decision to sever Assange's internet connections is unclear, nor has there been any indication of how long the «temporary» change in his status will remain in effect. However, analysts say it is a sign that Ecuadoran officials do not regard their longtime guest as positively as they did in 2012, when he first arrived at their embassy in London's upscale Knightsbridge district.
Honored guest
At the time, Ecuador's left-leaning president, Rafael Correa, treated Assange as an honored guest. Correa joined with the late Venezuelan leader Hugo Chavez in lambasting the U.S. and Western policies and presenting Assange as a champion of democracy and free speech.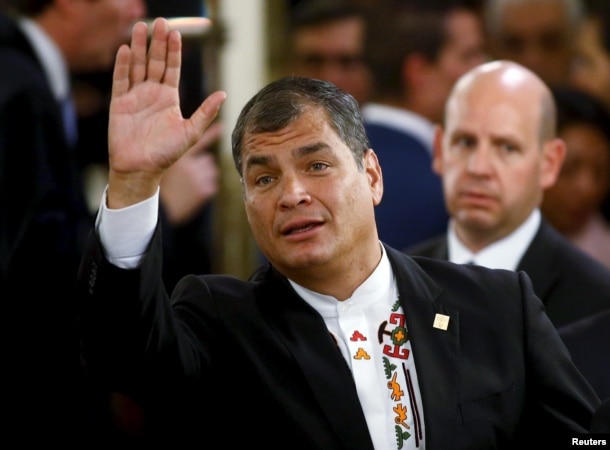 Recently, however, Correa told an interviewer that if he were American, he would vote for Clinton. «I know her personally and I have great appreciation for her,» he said. «For the good of the United States and the good of the world, I'd want Hillary to win.»
WikiLeaks' supporters, including some high-profile figures, are occasionally seen outside the embassy. Canadian-American actress and model Pamela Anderson expressed concern for Assange's health and was seen this week delivering a vegan meal to him.
But analysts say Assange's fortunes appear to be changing as the political climate in Latin America and much of the rest of the world shifts.
Leftists disillusioned
Correa's term is about to end and Venezuela's economic failures have disillusioned many Latin American leftists.
In Britain, critics dispute any notion that Assange's practice of leaking confidential or secret documents reflects a true commitment to democratic values.
Some, like Davis Lewin, see a troubling double standard in Assange's crusade.
«One has to ask: Why is it only anti-American? Why is it only disclosures that hurt Western institutions, Western political leaders?» Lewin asked. «One has to wonder why it is that Assange has never done anything to hurt Russian interests. And I think the answer is, people will have to make up their own minds about that.»
Please follow and like us: