Betts channels aggression into five-RBI night
septiembre 5, 2019
Reigning MVP homers on first two pitches he sees from Twins' Berrios
By Ian Browne
BOSTON — Mookie Betts went into his best mode — or was it beast mode? — on Wednesday night at Fenway Park. That would be attack mode.
The star leadoff man tore into Twins ace Jose Berrios with an aggressive approach that sparked the Red Sox to a 6-2 victory at Fenway Park.
In a dominant display of hitting, Betts walloped a first-pitch fastball into the Green Monster Seats to lead off the bottom of the first, and he then hit a first-pitch curve for a three-run rocket over everything in left in the second.
On two pitches and two swings, Betts hit two homers that combined for 782 feet of projected distance, per Statcast.
Judging by the data, Betts should go with this approach more often. In the 45 times he has put the ball in play this season on a 0-0 count, he is hitting .378 with four doubles, seven homers and 17 RBIs.
"You look at his numbers, and I think on the first pitch, he's hitting close to .400 and slugging a lot," Red Sox manager Alex Cora said. "It's the nature of him [not to swing at the first pitch]. He's patient. I'm not against it, but I feel that he can do this from the get-go, set the tempo. It was good to see."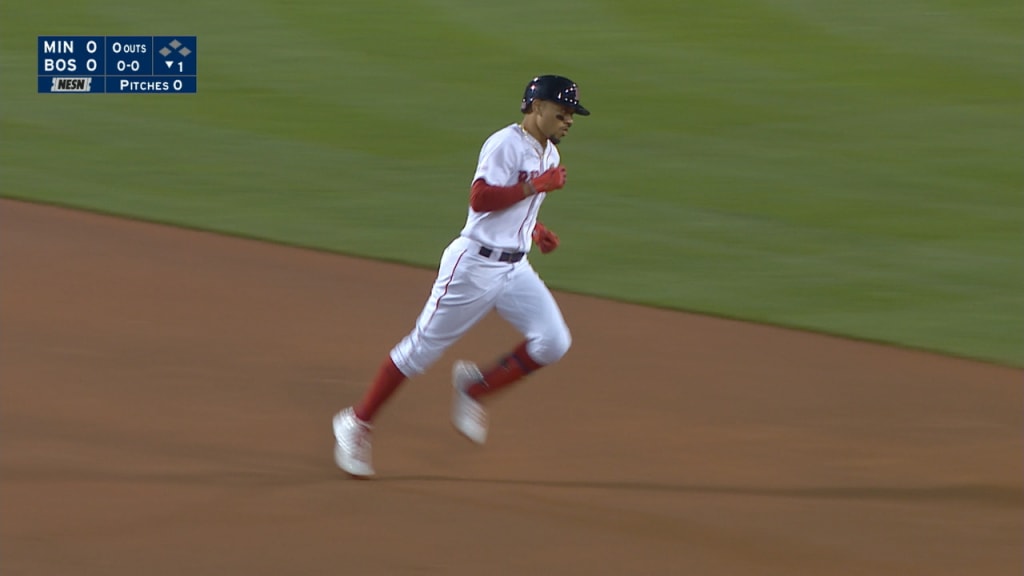 Unprompted, Betts mentioned that some more early count aggression could be beneficial.
"I just know [Berrios is] a good pitcher," Betts said. "You start falling behind him, he'll put you away quick. That's kind of in general. I just need to be a little more aggressive."
The performance was a reminder of how quickly Betts can take over a game. Though the dynamic right fielder did slow down from a power standpoint as the night progressed, he had a monster performance, going 4-for-5 with five RBIs.
It was a different version of Betts than Berrios saw on June 17 at Target Field, when he held Boston's spark plug to one single in four at-bats.
"In reality, the last time I faced him, I dominated him, and today it was his day," Berrios said. "He obviously beat me the first two pitches, and they got the win today. He looked very good at home plate, and obviously he was feeling good at home plate."
When Betts gets caught up in one of those zones, there's not much opponents can do to stop him.
"He's the MVP," Red Sox catcher Christian Vazquez said. "When he's good, he's hot and he's going to hit everything. Berrios is a good pitcher, so Mookie is an awesome hitter. The pitcher makes a mistake, he's going to hit it."
Betts came into the night in an 0-for-9 drought, but he quickly heated up. Overall, he has been in a good way of late, reaching base safely in 18 straight games. In a 15-game stretch that started on Aug. 12, Betts has a line of .347/.388/.693 with nine doubles, five homers and 13 RBIs.
"I'm feeling pretty good, but we're trying to find a way to put some wins together," Betts said. "Eduardo [Rodriguez] did a great job today. Can't ask for anything more than what he's been doing. Gave us a chance to win, and we did."
On just about any other night, Rodriguez would have earned top billing with his latest sparkling performance. The lefty fired seven shutout innings (five hits, eight strikeouts) to improve to 17-5 and lower his ERA to 3.81. With as many as four starts left on the season, Rodriguez has a shot at 20 wins
"It's not important for me right now to win 20 games," Rodriguez said. "For me, it's more important to give the team a chance to make the postseason. That's our goal as a team. Make it to the postseason. If 20 wins come or not, I'm just going to be happy if we make it to the playoffs."
Despite Wednesday's strong performance, Boston (75-64) still faces a tall order to make the postseason.
With 23 games left in their season, the defending World Series champions trail both the Indians and Athletics by 5 1/2 games for the second American League Wild Card spot. The Rays hold the top spot, six games ahead of the Red Sox but five up in the loss column.
It will take a special run to overcome the odds, and a red-hot finish from Betts would certainly help.
Last year's AL Most Valuable Player Award winner is slashing .289/.388/.516 with 39 doubles, five triples, 25 homers and 75 RBIs. That — along with 91 walks, 14 stolen bases and Gold Glove-caliber defense — would make for a career year for most. But for Betts, it is a decline from his sparkling 2018.
Perhaps that just means Betts is going to keep raking in the quest to rise closer to his expected level.
"Yeah, Mookie Betts, he's as good as it gets, and he had a good night," Twins manager Rocco Baldelli said. "He jumped a couple of pitches and put them over the Monster, and that's a big part of what happened tonight. When Mookie comes up and hits a three-run bomb on a first-pitch breaking ball, you kind of do have to tip your cap to him."
Ian Browne has covered the Red Sox for MLB.com since 2002. Follow him on Twitter @IanMBrowne and Facebook.
Please follow and like us: