History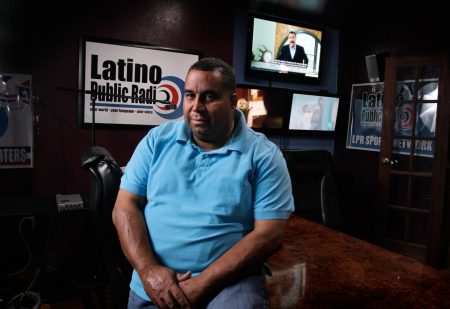 Reynaldo J. Almonte  is a radio innovator and advocate. Member of the founding board of LPR
In 1992 Reynaldo Almonte led an effort to create a new concept for Spanish language radio. La radio pública for the dissemination of news, education, dialogue and entertainment. The concept for Latino Public Radio began under an existing radio stations, La super K and Exitos 88.1 F.M. broadcasting out of Providence, Rhode Island.
Mr. Almonte shifted the programming for Super K from entertainment and music to a source of objective information news and education. What resulted was an outlet for the minority community to become empowered through intellectual awareness and to participate in serious and intelligent debate.
Latino Public Radio (LPR) is a 501(c)(3) not-for-profit organization, whose mission is to inform, educate and entertain the bilingual radio audience through the production and distribution of intelligent, high quality, cultural and educational programming that reflects the diversity of the Latino community.
Since LPR's inception in 1996, the station has presented itself to the community as a resource to protect and project the values of the Rhode Island Latino community.  LPR's team of strong dedicated members is comprised by renowned professionals and community leaders who are committed to the Latino community striving to educate and inform our listeners. Our focus is to bring our audience intelligent discussion about salient issues of the day that impact the Latino community.  These include health, politics, business, financial services, and education.
Latino Public Radio believes that radio is the best way to effectively reach the Latino community.  Our commitment to educate the community about their health has always been an important part of our mission.
Education Improves Public Health and Promotes Health Equity
LPR also has a strong focus on breaking news and covering historical events in Rhode Island.  LPR News was able to cover numerous events affecting Latinos throughout the state of Rhode Island including political events relating to the 1992, 1996, 2000, 2004, 2008, 2012, 2016 and 2020 presidential elections. We conducted interview with Bill Clinton, Hillary Clinton, George W. Bush and Barack Obama, . We were also one of the only Spanish media sources providing live coverage of community based events such as the inauguration of the U.S. Census campaign, 1990, 2000, 2010 and 2020.
The United States Conference of Mayors and the Latin American Leaders visit to the state. We routinely cover health fairs, primary and general elections, and press conferences of general importance to our community.
Our vision is to continue making a difference to those we serve in Rhode Island and expand our educational programming to other Latino communities in the United States.